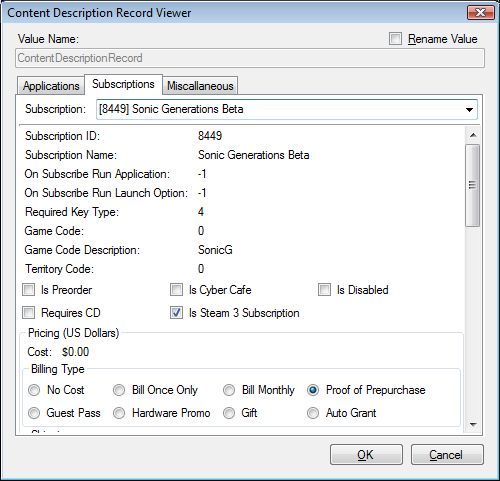 If you caught the tweet two hours ago, you're no doubt already aware that Sonic Generations was spotted up on Steam in a beta state.
But before you go running off to try and somehow hijack it and do whatever it is you plan to do with it, learn that it cannot be downloaded. However, you can safely see its presence in the Steam index without any worry of breaking laws or losing your Steam account permanently.
Make sure your Steam client is up to date and download the Steam Registry Tool Kit here. You'll need .NET Framework 2.0, so this is for Windows Users only.
Open the program, and open the file "ClientRegistry.blob" located in C:\Program Files\Steam (or C:\Program Files (x86)\Steam for you Windows Vista and 7 users.) Double click on ContentDescriptionRecord, which is a registry entry on the right panel. If you don't see ContentDescriptionRecord, make sure the folder "TopKey" is highlighted on the left sidebar.
Finally, go to the Subscriptions tab, to the dropdown right below the tabs, and go to I.D. 8449.
Not the most exciting bit of news other than the impromptu confirmation for the PC version of the game. We'll keep you posted if anything more develops or from official word from Sega. Special thanks to forum member Hinchy for the above process.