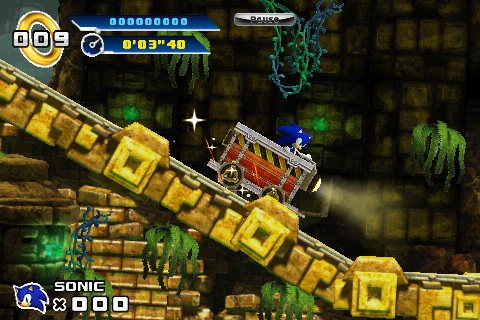 Easy, put down the flamethrowers and the "IGN = IGNorant" signs for a moment.
IGN recently put up its preview of the iPhone version of Sonic 4, often forgotten about in comparison to its console-based counterpart. The iPhone version is notable in that it has two exclusive acts, those being the controversial among fans minecart stage in Lost Labyrinth Zone Act 2 and pinball score attack stage in Casino Street Zone Act 2.
Well, according to the writer Levi Buchanan, the stage fans trashed into oblivion to the point Sega was forced to change it is much more fun than the new console iteration.

Here's why: Sonic has a tendency to get away from himself. Granted, that's by design. Sonic is all about speed and you're supposed to get going as fast as you can, blasting through stages with the constant fear that one false move will send your 112 rings into the gutter. But that doesn't necessarily appeal to me anymore. In fact, I'm sure I groaned aloud many times at SEGA's office when I was cruising toward the finish line only to fail a small jump and drop onto some spikes.
Buchanan also enjoys the tilting mechanism due to the "sense of exploration as you tilt Sonic through the maze in his cart, looking for bumpers to blast you across chasms or finding the switch to open a sealed door." It's also very hard for the player to lose a life on the stage, which Buchanan likes a lot.
Platformers usually don't fair well when moved over to the iSeries of devices, so it's likely the tilting nature of the level and the reduced death factor help with this version. Do you think this shows a good divide with how different the typical iPhone games player is versus a typical console player?