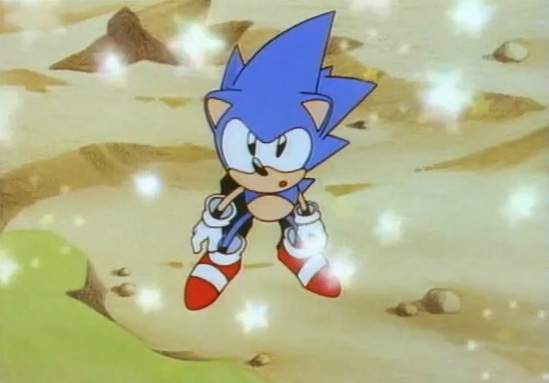 [UPDATE: Sega's Ken Balough offers more clarification on the jumbled mess that is the timeline. Read the full quote at the bottom.]
Brace yourselves one more time. This could be a bumpy ride.
The start of PAX today in Seattle allowed attendees to get a first taste of Sonic CD on the Retro Engine before making its way to consoles, computers, and mobile devices, running through the entirety of Palmtree Panic Zone. Initial reactions from the crowd are fairly positive.
While trying out the game, forum member Shade Vortex got to speak to Patrick Riley, a staff member at Sega of America, [UPDATE: Ken Balough, Sonic Digital Brand Manager,] about the game. A few of the details revealed by Retro Engine creator Christian "The Taxman" Whitehead might have been a little premature.
SONIC 2 SPIN DASH AND MUSIC
Regarding the functionality of the Sonic 2 spindash, Balough said that the feature could still be removed from the final game if it is found to cause problems within the game, going on to say that developers shouldn't talk about features so early on for this reason.
More on that point, when asked about the inclusion of the U.S. soundtrack, Balough stated that it is not currently planned for use in the full release, due to licensing issues in using Spencer Nilsen's soundtrack. However, Sega is trying to work around that and come up with a solution. Meaning, if an agreement is reached, this may include paid DLC, if the game can support it. For now, the game is International soundtrack only.
DOING THE TIME WARP IN THE TIMELINE
When asked about the curious use of Sonic 4 assets in the reveal trailer for the game, Balough confirmed that Sega has retrofitted Sonic CD's place in the timeline as after Sonic 3 and Knuckles but before Sonic 4: Episode 1. The rationale behind this was that Sonic CD's developers never put any direct mention of Sonic CD's place in the timeline.
Even if a slight nod to its place exists within the original game itself.
So how exactly does this work? When Sonic CD is released later this year and Sonic 4: Episode 2 is announced, there will be a trailer where Sonic escapes from his time-travelling detour. In all the Sonic 4 trailers, Sonic is chasing Eggman from the left of the screen to the right. In the Sonic CD trailer, there's a signpost instead, and when he hits it, he takes a detour and does the story of Sonic CD. Once his CD adventure is over, his detour ends, and he goes onto Sonic 4: Episode 2, coming out sometime next year.
Wait… so Sonic 4: Episode 1 happens, Sonic CD, then Sonic 4: Episode 2? I guess this fits with the whole "after Sonic 3 and Knuckles" thing, but wouldn't this technically make it a side-sequel to Sonic 4: Episode 1 then? Just hit me with the Hazama cameo. Blast you and your odd time travel logic, Sega!
Opinion injection aside, there's one more point that was tackled.
SONIC 4: EPISODE 2 RUNNING ON THE RETRO ENGINE?
With The Taxman's earlier details revealing that Sega now owns a license to his Retro Engine, used to power the popular fan game Retro Sonic Nexus, fan speculation rocketed if Sonic 4: Episode 2 will throw away the criticized physics engine it used in favor for the Retro Engine.
And with the precision of Sonic shooting down one of Eggman's many airships, Riley responded with a flat "No," continuing by saying that Sonic 4 "will never" use the Retro Engine because the code base is incompatible with the existing Sonic 4 engine, which they are still using for Episode 2.
Hopefully with quite a few tweaks and lessons learned from Sonic Generations. I know, opinion injection again. My apologies.
Special thanks to Shade Vortex for conducting the interview because some of us couldn't make it to PAX this year.
[ADDED 8:33am EDT] Due to the confusion caused by the two statements, Balough took the time to clear up the situation in a greeting-card post saying he will be at PAX.
Hi Everyone!!

Ok so I'm at PAx right now showing off Sonic CD to every lucky person who's attending the show (by the way if you are here – it's at the MSFT booth.)

But I have a few minutes and I've seen some confusion about Sonic CD being a prequel – and it is!! Just as you imagined it.
which is basically my way of saying – allow me to illuminate the situation.

Remember back during Ep 1, I was saying we had outlined a great story for the Sonic 4 Saga? It all come back to that Cliffhanger at the end – where we brought back Metal Sonic. Sonic CD was never really tied to the numberical Sonics in any significant way back in the 90's. Sonic 4 is going to change that, and bridge these adventures together in a meaningful way.
While we are not taking away "when CD happened" in relationship to the numerical versions, we can tell you that the events in CD are very important to 4 (as you can imagine from us bringing Metal Sonic back)

So before we take you to Ep 2, we're gonna give all you fans a chance to experiance CD for the first time in years – and with a terrific presentation in wide screen. And yes the physics are fine!

So as you can see from the Trailer we created – Sonic took a slight detour into "The Past", and later will be propelled back into the future to resume the Sonic 4 Saga

And if your at PAX come say Hi!

Cheers,
Ken
Taking it back to the original thought that no one knows when the game happened, the release is to show a plot connection in Episode 2, which relies on Sonic CD in some form. Spinning around at the speed of sound, is everyone satisfied now? You can see a more updated and accurate account at this link here.