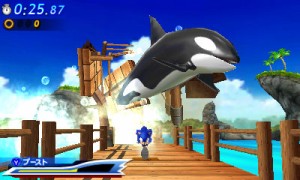 Now that the fires from Generations on PS3, 360, and PC are cooling down, the 3DS version is running… well, slowly, briskly running behind its grander brethren. As we did a small reveal of details before, it only makes sense the 3DS version gets an equal opportunity. Since the 3DS is currently not quite as easy to pick apart as certain consoles, most of the juicy goodness comes our way thanks to Sonic Stadium member Thigolf after getting a copy of the game from a broken street date in Germany.
If the headline itself wasn't enough of a deterrent, proceed at your own discretion.
For those not keeping track of level reveals, there are seven stages the two Sonics go through: Green Hill Zone, Casino Night Zone, Mushroom Hill Zone, Emerald Coast, Radical Highway, Water Palace, and Tropical Resort. While the console version has Sonic and a ton of his friends, the portable version keeps it simple with just Sonic, Tails, Eggman, and the three rivals.
Beating Green Hill Zone automatically unlocks every level in the era, allowing you to pick and choose which zone and act you want to do first. Eventually, you'll be challenged to face the rival of that particular area; Metal Sonic in Casino Night Zone for Genesis, Shadow in Radical Highway for Dreamcast, and Silver rounds out the three at Tropical Resort for the Modern Era. Beating them unlocks the big boss of the particular era.
An aside, don't expect all new remixes for the rivals. They're all packing their console version music.
The Big Bosses are Big Arm (Sonic 3), Biolizard (Sonic Adventure 2), and Egg Emperor (Sonic Heroes.) Your guess is as good as ours as to why the "Dreamcast Era" got two bosses. All of them feature remixes of their original songs, so expect the inevitable rip of the Supporting Me remix to hit the interwebs.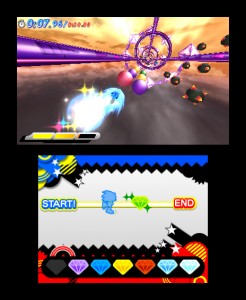 As seen, Chaos Emeralds are chased down in Sonic Heroes-styled special stages. Collecting orbs builds up the boost meter, allowing Sonic to chase down the Emerald within a limit of 1:30. As an aside, Classic Sonic gains the homing attack upon completion of the Genesis Era, and Modern Sonic gains the Stomp attack after clearing the Dreamcast Era. Classic Sonic can also pick up the Lightning Shield, functioning as it does in the Advance and Rush games (no double jump.)
Here are some additional level notes:
Level info:
*The Whale in Classic Emerald Coast destroys the path behind you kind of like the Truck in the HD Version does
*In Modern Emerald Coast, he jumps out of the water and you have to do a little quick time event to make him crash against the wall (poor guy)
*Modern Radical Highway has lots of grinding parts on the bridge
*In Water Palace Classic Sonic needs to activate the switches to make the water pumps, that shoot you up, work (could be gramatically false, sorry) The level also has a bubble maschine that creates bubbles you can jump on so you can cross holes
*The Back 2 Back remix in the Modern Level seems more funky and has more rock elements
*Classic Tropical Resort seems to be based more on the DS Version of Colors designwise, he also has the DS exclusive Red Wisp and has a Rocket Part at the end where so jump from rocket to rocket before they explode to get up
*Modern Tropical Resort is more based on the Wii Version and has the Cyan Wisp, at the end you grind on rails and you have to avoide falling meteors
There are also 100 missions to play through, but to access them, you'll either need to use the game's StreetPass function or spend five Play Coins per mission. Better get walking.
Lastly, and this will no doubt be a deal breaker for a lot of you reading this, while beating the console version unlocks (severely nerfed) playable Super Sonics in stages, no such thing occurs in the 3DS version. From the looks of it, Super Sonic is not allowed in stages, sticking exclusively to the Time Eater battle.
But let's not send you home on a sour note. Thanks to Mario and Sonic 2012, we actually have a pretty high quality version of Modern Emerald Coast's remix of Windy and Ripply.