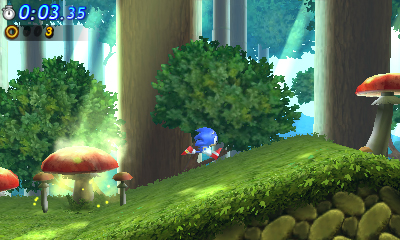 With all the hullabaloo about Chemical Plant, Seaside Hill, Spagonia's Rooftop Run and yet another return of Sonic 2's Giant Robotnik mecha, it's understandable that the hype levels for the console version of Sonic Generations are slowly inching toward critical levels.
But then there's the forgotten black sheep, the 3DS version, pining for attention after a mostly dud performance and reception at this year's E3. But as a reminder that it's still alive and kicking and is begging for a home this November, Sega has revealed that 3DS owners will forgo scaling Sky Sanctuary's heavenly heights in favor of stumping through Mushroom Hill's seasonal segues.
In this case, Classic Sonic will run through the fungi forest in its Spring time prime while Modern Sonic tackles the level in its waning Autumn form, including an on-rail grinding section and giant flower propellers.
Check out the gallery for full shots of mushroom bouncing goodness.
[Via Sonic Stadium]