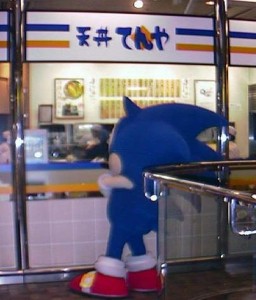 So, between last weekend's PAX shenanigans, more details on Sonic CD's re-release and some weird trailer for SAGE that was released, we've got a lot to cover this week. Let's go!
Sonic Retro News
This shouldn't come as a huge surprise at this point, but Sonic CD is coming to XBLA, PSN and a bevvy of mobile devices. Oh, and it's being ported by Retro's Own (TM) Taxman. Also, it's pretty awesome. [ Sonic CD coming to everything except Nintendo systems ]
Bgvanbur has been researching Cinepak on the Sega CD, which needless to say, isn't the best-documented codec. So why not make a technical demo with…Nyan Cat? I'm sensing a trend here with hackers and that cat. [ Demystifying Cinepak for Sega ]
The KKM linked a very odd video on the forums looking for an explanation behind it. Personally, I don't have one, but it still needs to be seen for its sheer weirdness. That, and maybe one of you actually do know its origins. [ A weird video in the Supreme Topic ]
Sega/Sonic News
Other Stuff
From Portal helping a guy through house arrest to how a transwoman used video games to accept her identity, this blog is a great collection of essays on the importance of gaming. [ How games saved my life ]
Think you can name any game just by the sound (or, more likely, are bored and have a few minutes to kill?) PBS has a neat little flash game that quizzes players on classic video game sound effects. [ Name That Game ]
A set of French illustrations demonstrating life in the year 2000 done in the year 1910 have recently been scanned and uploaded to the Internet. brb, gotta refill the helium in my dual-blimp ship. [ What People in 1910 Thought the Year 2000 Would Be Like? ]
Monday Video
OK, So many fishies I got caviar for ovaries isn't really a lyric I can drop in everyday conversation, but that is certainly not going to stop me from trying.