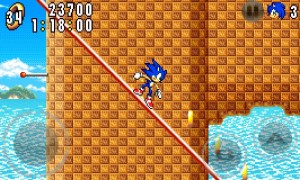 Ports of Sonic games to mobile devices  have been nothing new or notable for a while now–after all, we've seen both Sonic 1 and Sonic 2 ported to everything ever, as well as mobile versions of games like Sonic Unleashed and Sonic at the Olympic Games appearing for phones alongside their console counterparts.
But in a move unseen since Sonic N (rest in peace, taco phone), the classic game Sonic Advance (aka the Advance series game that was actually pretty great) is now available on the Japanese Android Marketplace. For free. How awesome is that?
The game is slightly different than the original Game Boy Advance release: when the 3x scaling is calculated back down to the game's original size, the screen resolution comes out to be 264×158 instead of 240×160. Rather than the GBA's chiptunes, the original MIDI compositions are being used in this port, which is unsurprising but still pleasant.
If you live outside of Japan and still want to play the game, we have a rip of the APK available for download.Note that you will need to know how to root and modify your Android device (which we can't help you with, sorry 😉 ) and that you'll need to set your provider id to docomo. Here's hoping it gets a proper release in the western Android Marketplace for everyone else!