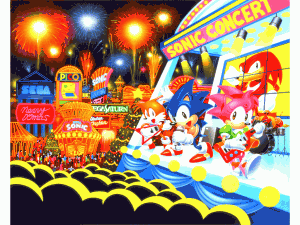 So it's pretty much accepted that the soundtrack to Sonic Generations is awesome. Of course, unless you just sit in front of your television watching the game (or enjoy the music through other means), there hasn't been a way to enjoy the music on its own. Even in some of his worst showings, Sonic has always been about the music, and yet much hasn't been said about an official release.
Without much fanfare, SONIC GENERATIONS Original Soundtrack: Blue Blur has been officially announced on amazon.co.jp. Slated to be released on January 11th, 2012, the three-CD set looks to be the final hurrah for the 20th anniversary celebrations. Aside from that info, there hasn't been anything else said about what the release will contain. No track listing, no number of songs, nothing about anything extra. All we know is that it will exist, which is enough for now. Hopefully, nothing will be missing on the track listing, since I know some people have been afraid it might not even come out since the DREAMS COME TRUE tracks are still owned by Masato Nakamura. Either way, it should prove to be exciting, if only so you can slide in a CD to impress your friends while you're driving down the highway, unable to resist the urge to jam to Chemical Plant.
The set will retail for ¥ 4,200. No word on a western release just yet.
[Source: Amazon.co.jp]