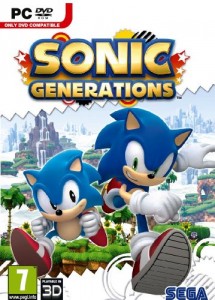 While the PC version of Sonic Generations has already been released on digital services like Steam worldwide, those without a credit card or Paypal haven't been able to buy it yet. If you're one of those people and live in Europe, you're in luck. SEGA has announced that the physical version will be released on November 25th, the same day as the 3DS version. Australia will be getting it as well, but no date has been announced as of yet. There will be no retail release in the US or Japan and it uses Steamworks, so you'll have to install Steam to be able to play it.
The PC version is probably the best version to get if you have the hardware to run it and a gamepad. Besides having prettier graphics and higher resolutions, it has a cheaper price-tag and it runs at 60 frames per second. However, besides a few minor issues some people with ATI cards or laptops with Optimus Technology have reported problems with running the game, so those may want to look for a workaround or wait for a patch or driver update before purchasing it.
For those that already have the game on PC, a patch weighing at 28.5MB recently got released on Steam. It fixes issues like not being able to drift when using the keyboard and the Shop menu being unresponsive at low frame rates. More details can be found in the patch notes:
Updates to Sonic Generations have been released. The updates will be applied automatically when your Steam client is restarted. The major changes include:

– USA flag is now correctly displayed in Online Mode.
– Fixed an issue where the Shop menu would become unresponsive at low frame rates.
– More accurate timing clock to 60Hz—may fix some issues with fluctuant frame rates.
– Updated default keyboard layout.
– Keyboard controls now correctly support drift.
– Screen display has been sharpened when AA is disabled.

Notes:
– Users of NVIDIA Optimus graphics cards may experience an issue where the Configuration Tool fails to detect the Optimus card. NVIDIA are working on fixing the problem, and will get an update out shortly, during the next driver release window.

– If you experience any other problems, please contact [email protected] with details. To help us identify and fix the issue, please provide as much information as possible on your PC hardware, and the issue that you're experiencing.
[Via Sonic Stadium and Steam]