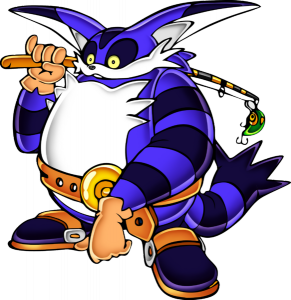 Much has been said about Sonic Adventure, Sonic's first true foray into 3D gaming. The sprawling levels, the blistering speed, the last moments of precision platforming, and the entire redesign of Sonic the Hedgehog and his world. Even if later rereleases haven't received the kindest reviews, when it came out it was an amazing game. Even Famitsu, that near-Bible of Japanese news and reviews, gave it one of their highest scores possible, with one reviewer citing that if Ocarina of Time had come out after Sonic Adventure, there's no way the Zelda title would have received its perfect score.
But no matter who is talking about it, when the low points come about, everyone will assuredly talk about one of the shorter portions of the game, and the one character associated with it. The part that many people point to as the worst part of the game. A section that people now feel vindicated with their hatred because of the events of Summer of Sonic where Iizuka apologized for it. Yes, I am talking about the fishing stylings of Big the Cat.
All I have to say is…why?

When Sonic Adventure was being developed, the team behind the game knew the focus would be on Sonic. There's a reason he has the most levels of any character, and why his controls are the basis for "Tails" and Knuckles. Sure, the latter do not have the same objectives, but when you play as them, you can feel the core of Sonic's gameplay in them, they just don't run as fast. With Amy Rose and even E-102 Gamma, the entire game is filled with its trademark frantic pace, with not much time allotted to just stop and smell the roses (wait not that Rose). That was the purpose of Big the Cat's creation, to offer an alternative to the non-stop speed. To be able to stand still and not have a million robots try to kill you or push you over the edge into a bottomless pit.
When I heard Iizuka say he regretted the Big gameplay, I didn't see him apologize for putting him in. I heard a man apologize for not knowing how to make the best damn fishing game he could. And rightfully so! I'm not going to make excuses for some of the weirder moments of control, but does that completely negate Big's role in the title? And the Ice Cap level, though pretty to look at, always places Froggy right there at the beginning, while there's an entire level present. You could have made Big stroll more than one foot to find his polliwog pal. More time to enjoy the stuff that men dream of.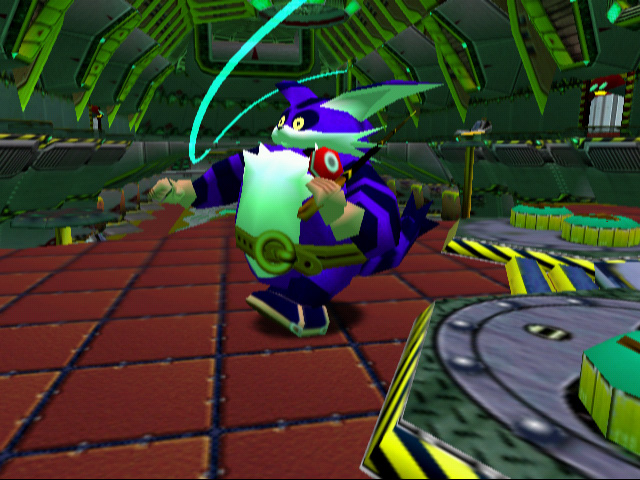 Yes. Men dream of fishing. After dealing with a terrible work week that makes you want to kill your boss, finding out your wife has been sleeping with the gardener you can't afford, and that your mother is coming in to stay with you for the next month, all you want to do is escape. To escape on a boat, sit back, drink a few beers and fish. Fish, fish, and fish. Because once you fish, all you have to worry about is thirty seconds of intense action where the music gets exciting and you have to shake about that fishing poll and hope you don't lose that mechanical 2000g fish that Sonic can't break apart for some reason forever leaving the animal inside trapped until Big takes the fish and tries to cook it and the animal explodes out in a comical fashion looking for the nearest river which is of course a direct line to Eggman's base.
For some reason I feel like that last paragraph escaped from me. Too bad the failure fishing music in the soundtest didn't play.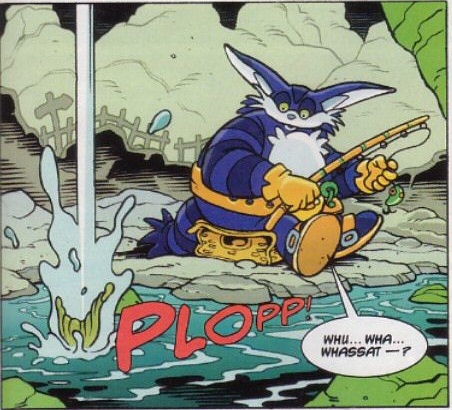 Yes, I will concede that when you pick up a Sonic game, the last thing you expect is a fishing game. I also wasn't expecting two different types of shooters, a treasure hunt, kart racing and a glorified Tamagotchi. But you know what? The game worked so well together. Kart racing was a fun diversion. Chao raising inspired numerous people to untold obsession. And the treasure hunting aspects were still fun in this game, unlike Sonic Adventure 2 when they decided to not make it just harder, but far more frustrating and annoying. Speaking of Sonic Adventure 2, who wouldn't have wanted Big to be a playable character on the hero side? Who knows what they would have come up with to counter him in the dark game! Evil fishing, here we come!
…maybe that's going too far. I will also admit that in subsequent playthroughs of the entire game, using Big sometimes feels like a chore because you can not just jump to Super Sonic. But I only feel that way when I want to get through everything as fast as possible. And as Iizuka said, Big wasn't meant to be about speed. He wasn't meant to be the coolest character. Froggy was not meant to be the second coming. He was simply meant to be an alternate style of gameplay in an incredibly ambitious project. Big's fishing was never as bad as everyone made it out to be. It was just out of left field, and that was its greatest weakness. Which is a shame.
The character lives on, of course. Having playable roles in Sonic Heroes and Sonic Chronicles: The Dark Brotherhood, as well as having the greatest cameos in the entire history of gaming in Sonic Adventure 2, the legacy of Big the Cat endures. But it has been over a decade since we last saw our favorite oversized cat sit on the edge of land and just fish to his heart's content. No one gets angry when Link does it. Why should we at Big? That's how he was Born to Play[1].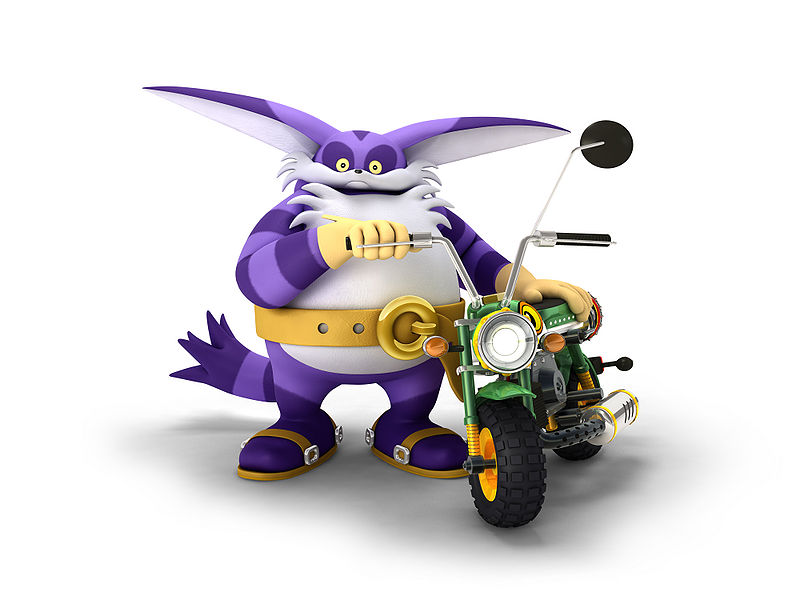 Looking back, I do now understand one thing. When the recent Dreamcast collection was announced, everyone was confused about one of the four games being on there: Sega Bass Fishing. "Why would you put a fishing game on there instead of Shenmue?" people would ask. Well, that's because Shenmue I and II should be rereleased when Shenmue III is finally finished so we can play them all at once and wait for Shenmue IV for another decade. No, the real reason Bass Fishing is there is so we all can experience what Big the Cat was meant to be. Which is why Sega should have gone the extra mile and incorporated the entirety of Sega Bass Fishing into Big the Cat's story in Sonic Adventure. Only then would we finally have the Director's Cut we were all promised.
I salute you, Big the Cat. Fish with pride, be it one fishing pole or many. Make no excuses, have no regrets. Just don't die when your line breaks. It's not that serious.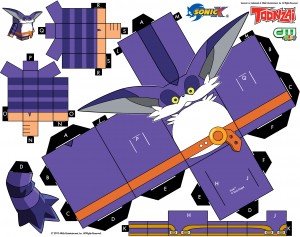 [1] I am eternally sorry for this joke.