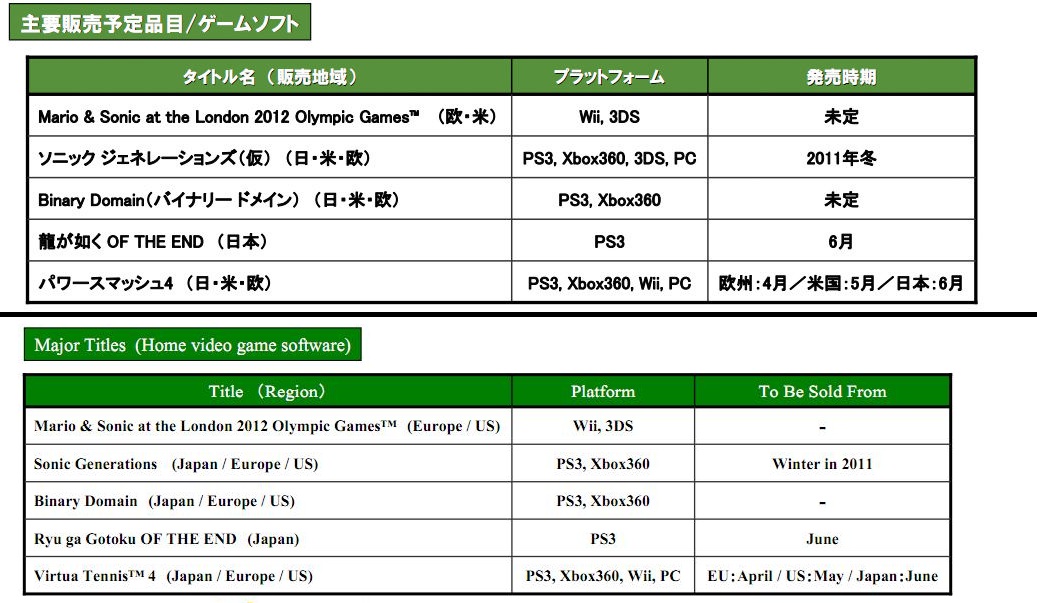 We reported earlier that Sega may have let the cat out of the bag with their 2011 Financial Report that Sonic Generations was en route to the 3DS and some system labeled "PC". The same graphic (above) was changed in a re-released version of the documents to the press, removing the 3DS and PC entries for Sonic Generations, but changing nothing else.
While this could mean that it was an honest typo on Sega's part, it's not been unusual for games to slip out this way, such as Namco Bandai's accidental confirmation of a PS3 port for Tales of Vesperia back in 2008.
With Nintendo Power still teasing some sort of reveal "fans young and old don't want to miss" in their next issue and Nintendo so far only confirmed to get Wii and 3DS entries of Mario and Sonic at the London 2012 Olympic Games, there's no secret that something is stirring in the realm of Nintendo. As for what, exactly, will likely remain a secret until the company's E3 keynote next month.
One thing for certain, however, looks to be that Cream The Rabbit will be one of the friend characters Sonic and… Sonic… will need to save from the rigors of time-space, as far as her Japanese seiyuu Sayaka Aoki said on her blog.
Via Google Translate:
We have been recording a new Sonic game!

Cute as ever grinded in Cream ♪

Chocolate ice cream with Itadai until after recording,
Kanamaru's behind me is (Sonic's), and
Be able to talk to you a long time,
Recording was fun!

All means for your interest ~ ♪
Get the fury out of your systems. Good? Great.
It's likely, like the other characters, her role will remain small, but look at this way: her existence has somewhat hinted at something more–a game that had Cream in it may wind up being a featured level, short of being stuck at the hip with Amy or Blaze. Let the speculation continue!
[Via Sonic Stadium]