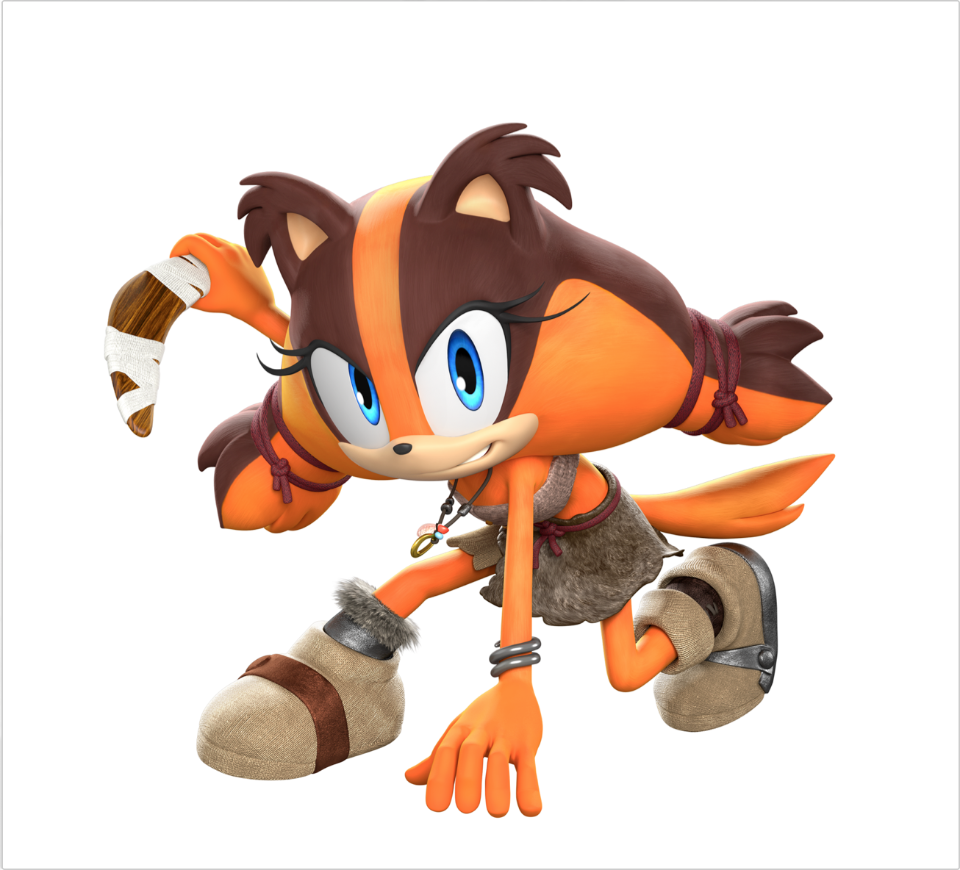 The first new character for Sonic Boom has been revealed. This character had already been spotted in a leaked poster and concept art and at the time some thought that she may be Marine the Raccoon from Sonic Rush Adventure, but it turns out that she's just called Sticks. And no, her name doesn't end with "the Something", though she is a badger.

This new character is voiced by Nika Futterman, who describes her as really intelligent, but that the things that she says just come off as really strange. Or in other words, she's the crazy character who comes up with conspiracies that don't really make sense and puts sports tape around her boomerang. She'll pop up in both the Sonic Boom games and TV show and will be best friends with Amy Rose. You can read SEGA's official announcement and see some more art of her after the jump.
In advance of the highly-anticipated launch of Sonic Boom, the newest branch of the Sonic the Hedgehog universe announced earlier this year, SEGA is pleased to unveilSticks, a brand-new character that will play an integral role across all Sonic Boom platforms. Sticks, a jungle badger who has spent most of her life living alone in the wilderness, will appear in the Sonic Boom TV series, Wii U and Nintendo 3DS video games, and merchandise, forming a common thread across all iterations of the new Sonic Boom world.  Sticks joins Sonic, Tails, Knuckles, and Amy to form the core ensemble featured throughout the Sonic Boom franchise.

"Sticks is a significant addition to the Sonic Boom universe and the Sonic the Hedgehog franchise," said Hiroyuki Miyazaki, Chief Content Officer for the Sonic Brand, SEGA of America.  "She brings a quirky personality and perspective to the team dynamic, and we look forward to sharing this energetic and funny new character with the world."

Sticks is new to Sonic's circle of friends– actually new to friends in general– and as the most primal character in the Sonic universe, she is a force of nature in every way.  Sticks is wilder than the other members of Sonic's team with unparalleled animal instincts and extremely sharp survival skills.  She's a fearsome combatant and a tenacious hunter who's armed with handmade weapons at all times, most notably a handmade boomerang that she keeps in tow.

Her wildness means that her social skills need plenty of work and she's not the most trusting individual. Full of outrageous suspicions, Sticks' instincts often prove to be accurate. While the concepts of sharing, compassion and friendship are foreign to her, Sticks has a good heart and a genuine desire to get closer to her new friends, particularly Amy, who helps Sticks adapt to civilization. Sticks and Amy quickly become best friends, with Sticks willing to go to extremes to protect her new pal, a quality that will play out through new Sonic Boom content. Her eccentric character adds an endless amount of humor and surprise to the Sonic team.
[Source: SEGA Blog, Entertainment Weekly]