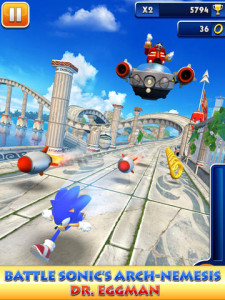 A slew of updates rolled out for several Sonic titles across Android and iOS devices. Sonic 1 and 2 now both enjoy more stability and Android Kit Kat's unobtrusive mode, while iOS7 support is included on the Apple side for Sonic 1, and the ability to use a controller instead of smudging screens with filthy fingers. Sonic 2's updates further refine multiplayer to be less of a hassle (though that still doesn't seem to stop people from disconnecting… rude.)
If for some reason you still happen to be playing Hardlight Studios' Sonic Dash, you'll be delighted to find out that after putting up with Zazz beating you like a "DRUUUUUUM" for the past several months, a new boss has stormed out the gate to wreak havoc on the ever repetitive Seaside Hill Zone.
Every other run through the never-ending serpentine roads will result in Zazz and Eggman switching places to try and cut your run short. Unfortunately, while being two different characters, Hardlight decided to phone it in and just reuse the same boss A.I. So it's less a new boss, more Zazz in an Eggman suit. At least the Egg Hornet theme from Sonic Adventure makes a return!
The update also contains new achievements for Silver and the announcement of the next global challenge to unlock series jewel thief Rouge the Bat. Neither are actually up and running as of publish time.