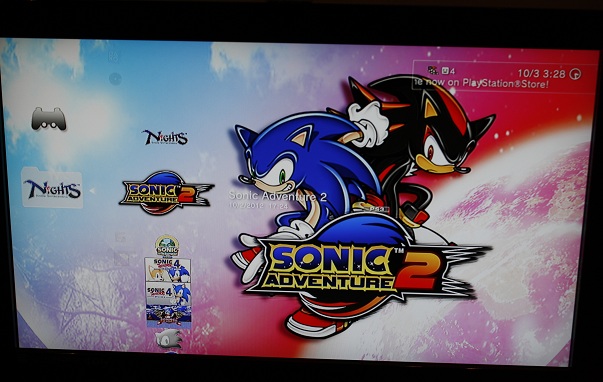 No doubt some of you earlier today who have accounts on PSN were quick to snatch up Sonic Adventure 2 in its long-awaited optimization into high definition. At long last, fans can relive the exciting adventures of Sonic and friends going up against Dr. Eggman, the enigmatic Shadow the Hedgehog, and the too-subtle-for-Rated-T Rouge the Bat in the ultimate showdown between good and evil in glorious HD!
However, we happened to have gotten our hands on the game a little earlier by way of our inside tipster in Sega of America thanks to a press-exclusive review copy. Now that the non-disclosures are over, let's show it off!
Cutely, it's modeled after the original SA2 case released back in they mystical year of 2001, though we do wish they would have included a proper manual instead of a print out cover (the manual has been digitized to save the trees, as that's the cool thing to do in the games industry these days.) That said, I happily grabbed the disc inserted in the case, curiously labeled "The Trial." Upon inserting the disc into the PlayStation 3, it began installing the demo for Sonic Adventure 2. Well played. Fortunately, I was then prompted to go to the PS Store and get the requisite unlock key for free.
Soon enough, I was greeted by a familiar title screen with Live and Learn blaring in full force, beckoning me to press the Start Button to begin the greatest adventure of all time. Before I knew it, I was jumping out of helicopters, boarding down hills and being chased by giant killer trucks (sans rockets and buzzsaws) just like I was 11 years ago–in HD!
I don't want to say much more about the game, but stay tuned as our own Guess_Who will be providing you with a review on how this remaster of SA2 stacks up in comparison to its Dreamcast original and Gamecube "Battle" upgrade. For now, enjoy this small gallery of off-screen photos. Unfortunately, I have no capture software so I cannot show you the true glory of this game in HD.