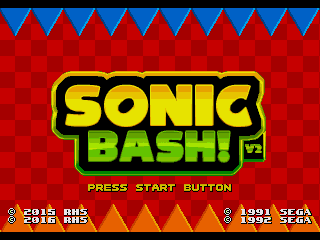 This Sunday at 8PM GMT (3PM Central), we'll be playing games together with house rules. I'm hosting another Retro Community Day on SEGA Channel Retro. The channel reached over 1,000 subscribers on YouTube and over 400 subscribers on Twitch! To celebrate this, we're going to be showcasing Sonic Bash, a hack where two players compete to defeat bosses by landing the most hits. Joining me (Bartman) on the horn is Neo Hazard as well as Red Hot Sonic the author of the hack.
You will need to download the hack along with Kega Fusion to get yourself ready for Sunday. Luckily you can find this from the hack's old entry page from the 2016 Sonic Hacking Contest. This also features instructions on how to set up Kega Fusion for netplay which will be useful on Sunday. This is going to work differently since there's no dedicated online infrastructure or friend list to work with, so we're going to make use of the Sonic Retro Discord channel to help us out. Fill out this form here with your Discord handle and join the Sonic Retro Discord here so that we can keep track of you. Do this before 7:30 PM GMT Sunday to ensure your chance to play with us. (You can use that time to meet with us!)
We'll have more information on how you'll be able to play with us this Sunday at 8PM GMT. (3PM Central) But here's a checklist to make sure you can join the celebration.
Note about the Sonic Retro Discord: A bot is in place that allows us to see who joins in. You will need to wait for approval before you can post messages in the Discord channel. Keep in mind that it's a matter of when mods are around to approve you. All participants will be approved before the community day starts!
SHBaT