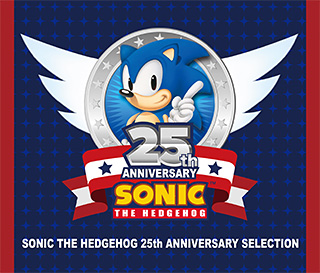 In 13 days, Sonic the Hedgehog is turning 25 years old. That's something crazy to think about – I still remember the first time I spotted the hedgehog, running wildly in the Marble Zone on a game kiosk in a department store that no longer exists, my parents probably silently hoping that it wouldn't become yet another childhood obsession.
In the build up to this gaming milestone, we've been slowly getting a trickle of hedgehog-related news: the latest Fire & Ice trailer, Sonic in Lego form, Archie's next Sonic Special. While we wait on baited breath for the next big Sonic game reveal, Jun Senoue and Wave Master have given us more information on the next soundtrack release regarding the fastest thing alive. On Jun's "Believe in Myself" column over at Japan's Sonic Channel, the official track list for the 2-CD, 1-DVD set has been revealed, celebrating the entire scope of the Sonic gaming franchise.
Check out the full listing after the jump.

Instead of being a straight, chronological selection similar to the 20th Anniversary CD compilation, each disc has it's own theme. Disc 1, "Blue Selection," is meant to capture the "Exhilaration" of the Sonic series, with songs that evoke the highs of speedy platforming.
01. STH1 Green Hill Zone ~ Mega Drive version ~ (Sonic the Hedgehog)
02. STH2 Special Stage ~ Mega Drive version ~ (Sonic the Hedgehog 2)
03. STH3 Special Stage (Sonic the Hedgehog 3)
04. S & K Sky Sanctuary Zone (Sonic & Knuckles)
05. Palmtree Panic (Sonic the Hedgehog CD)
06. Can You Feel The Sunshine? (Sonic R)
07. Mt. Red: a Symbol of Thrill (Sonic Adventure)
08. Join Us 4 Happy Time (Sonic Adventure)
09. It Doesn't Matter ver.2 (Sonic Adventure 2)
10. That's The Way I Like It (Sonic Adventure 2)
11. Neo Green Hill (Sonic Advance)
12. Sonic Heroes [Opening ver.] (Sonic Heroes)
13. We Can (Sonic Heroes)
14. Wave Ocean -The Inlet- (SONIC THE HEDGEHOG)
15. Theme of Metal City (Sonic Riders)
16. A New Venture (Sonic Rush Adventure)
17. Windmill Isle – Day (Sonic Unleashed)
18. Rooftop Run – Day (Sonic Unleashed)
19. Reach For The Stars -. Short ver (Sonic Colors)
20. Aquarium Park – Act1 (Sonic Colors)
21. Escape From The City – Cash Cash RMX (Sonic Generations: White Spacetime)
22. Seaside Hill: Act2 (Sonic Generations: White Spacetime)
23. Windy Hill – Zone1 (Sonic Lost World)
24. Main Theme of Sonic Toon (Sonic Toon: Ancient Treasure) *
25. Beyond The Speed ​​Of … (Sonic Runners) *
* First time on CD sound source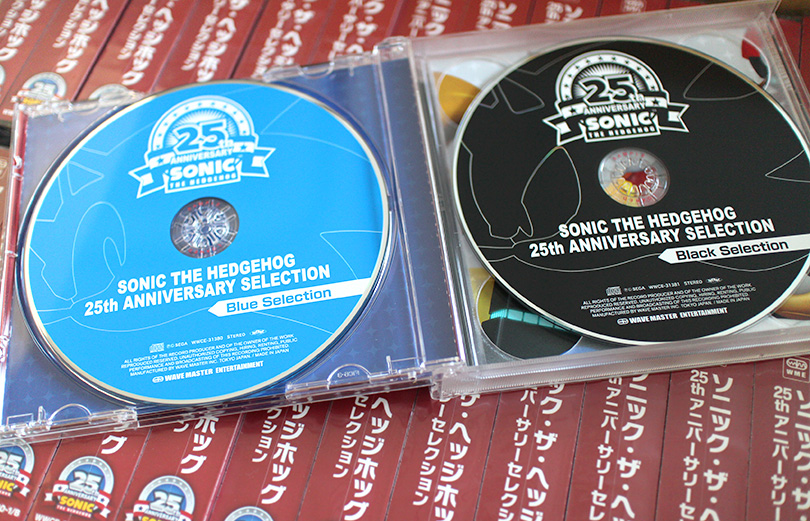 Disc 2, "Black Selection," is meant to evoke "Hard with Cool." Those songs that have an edge to it. Must be why Shadow's on the disc art.
01.STH1 Scrap Brain Zone ~ Mega Drive version ~ (Sonic the Hedgehog)
02. STH2 Chemical Plant Zone ~ Mega Drive version ~ (Sonic the Hedgehog 2)
03. STH3 Angel Island Act2 (Sonic the Hedgehog 3) *
04. S & K Death Egg Zone Act1 (Sonic & Knuckles) *
05. Introduction … featuring "Open Your Heart" (Sonic Adventure)
06. Skydeck A Go! Go! (Sonic Adventure)
07. Vengeance Is Mine (Sonic Adventure 2)
08. For True Story (Sonic Adventure 2)
09. Rail Canyon (Sonic Heroes)
10. I Am … All Of Me [Opening ver.] (Shadow the Hedgehog)
11. Westopolis (Shadow the Hedgehog)
12. Theme of Sonic The Hedgehog -2006 E3 Version- (SONIC THE HEDGEHOG)
13. Crisis City -The Flame-Skyscraper-Whirlwind-Tornado- (SONIC THE HEDGEHOG)
14. Sonic Speed ​​Riders (Sonic Riders)
15. High And Broken (Sonic and the Secret Rings)
16. Un-gravitify (Sonic Riders Shooting Star Story)
17. Werehog Battle Theme (Sonic Unleashed)
18. Super Sonic vs. Perfect Dark Gaia (Sonic Unleashed)
19. With Me (Sonic and the Black Knight)
20. Free [Opening ver.] (Sonic Free Riders)
21. Planet Wisp – Act1 (Sonic Colors)
22. vs. Nega-Wisp Armor – Phase 2 (Sonic Colors)
23. Boss: Metal Sonic (Sonic the Hedgehog 4 Episode II)
24. The Deadly Six Theme (Sonic Lost World)
25. Theory Of Attack (Sonic Runners) *
* First time on CD sound source
Fifty songs, covering half as many years. For those curious, only ten of these tracks seem to be exactly the same at the 20th anniversary compilation, with a couple being alternate versions. So if you're worried about double dipping, don't be! Unless you own every Sonic soundtrack ever, in which case you'll get this for completionist sake, regardless. Also part of the package? A DVD featuring openings and trailers from previous games, nearly all from Sonic Adventure and beyond except for one. I'm sure you'll be able to guess which game that would be:
01. SONIC THE HEDGEHOG CD: Opening
02. SONIC ADVENTURE: Opening
03. SONIC ADVENTURE 2: PV
04. SONIC ADVENTURE 2 Battle: Opening
05. SONIC HEROES: PV
06. SHADOW THE HEDGEHOG: Opening
07. SONIC RIDERS: Opening
08. SONIC THE HEDGEHOG (2006): E3 Trailer
09. SONIC AND THE SECRET RINGS: PV
10. SONIC RIDERS ZERO GRAVITY: TGS Trailer
11. SONIC WORLD ADVENTURE / SONIC UNLEASHED: Opening
12. SONIC AND THE BLACK KNIGHT: TGS Trailer
13. SONIC COLORS / SONIC COLOURS: Opening
14. SONIC FREE RIDERS: Opening
15. SONIC GENERATIONS: PV Era1
16. SONIC GENERATIONS: PV Era2
17. SONIC GENERATIONS: PV Era3
18. SONIC LOST WORLD: PV
19. SONIC BOOM RISE OF LYRIC / SONIC TOON: PV
The disc comes out on the 22nd of June, for a cool 4000 yen. No word on if a digital release is forthcoming.
Jun's post also talks about the "GAME SYMPHONY JAPAN 17th CONCERT SEGA Special 2016" which will be held at the Tokyo Metropolitan Art Theater Concert Hall on July 17. Previously announcend, there's now a trailer for the event. So if you have some spare cash and can fly to Tokyo, check that out.

[Source: Believe in Myself – "2016.06.10"]