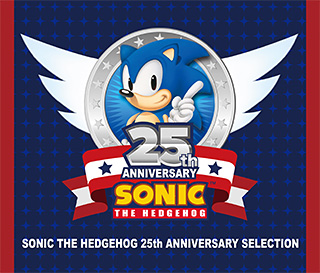 In 13 days, Sonic the Hedgehog is turning 25 years old. That's something crazy to think about – I still remember the first time I spotted the hedgehog, running wildly in the Marble Zone on a game kiosk in a department store that no longer exists, my parents probably silently hoping that it wouldn't become yet another childhood obsession.
In the build up to this gaming milestone, we've been slowly getting a trickle of hedgehog-related news: the latest Fire & Ice trailer, Sonic in Lego form, Archie's next Sonic Special. While we wait on baited breath for the next big Sonic game reveal, Jun Senoue and Wave Master have given us more information on the next soundtrack release regarding the fastest thing alive. On Jun's "Believe in Myself" column over at Japan's Sonic Channel, the official track list for the 2-CD, 1-DVD set has been revealed, celebrating the entire scope of the Sonic gaming franchise.
Check out the full listing after the jump.