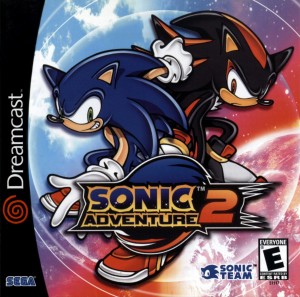 Ever wanted to shamelessly show off to everyone just how awesome you are at Sonic Adventure 2 but, outside of pictures or maybe videos, never could? Luckily, the modern day way of showing off your e-richard has you covered.
While there aren't any outrageous undertakings to note like raising up the ever difficult (and horrifically time consuming) to obtain "God Chao" or proceeding through Hero and Last Story without ever getting Knuckles' air mask (which no doubt some of you have done on pure accident), the worst the game offers the player is to complete every mission with an A Rank.
It's all fun and games until you need to not hit cars or walls in a glorified rocket powered shopping trolley.
The list is as follows:
HELLO WORLD – Hello, rookie, welcome to the Sonic World! (Start the Game)

CHAO! – Welcome to the Chao World!

CHAO RAISER – Time to raise your Chao. (Raise an adult Chao)

HERO! – You have cleared our HERO story.

DARK! – You have cleared our DARK story.

BOSS ATTACK – Your skill is top notch! (Clear Boss Attack Modes)

MISSION COMPLETE – Now you are the master of this stage. (Clear a mission with an A Rank)

HEAVEN OR HELL – You have successfully unlocked the HERO and DARK gardens.

BEYOND GOOD AND EVIL – My hero, you have successfully saved the world! (Beat Last Story)

SPEEDY RACER – Excellent driving skills! (Clear all Race Car mode tracks)

EMBLEM COLLECTOR –  Halfway to go! (Get 90 Emblems)

YOU ARE THE LEGEND – You are the Sonic expert now! (Obtain All A Ranks)
Most of the accolades to be obtained are fairly standard procedure otherwise and require nothing more than just playing through the game. Curiously, nothing is mentioned in terms of multiplayer areas, though if Sonic Adventure's DLC of DX content is any sign in how it brought in its own set for Metal Sonic and missons, it's possible that the Battle content DLC may bring its own surprises. Might we suggest one that involves the player in the lead skipping every checkpoint for speed segments? Aptly titled "You're Not Even Good Enough to Be My–I'LL MAKE YOU EAT THOSE WORDS–Fake"?
[Source: exophase]