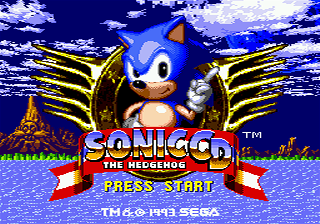 Today marks the 17th anniversary of Sonic CD, one of the most revolutionary and unique entries in the Sonic franchise to date. With its lush, surreal environments, amazingly catchy music and incredibly creative design elements, Sonic CD has established a presence as both the best and worst Sonic game among fans over the years. One thing can be said for sure, though–CD is a one of a kind representation of the different ways a Sonic title can be approached.
Contrary to the popular Mega Drive Sonic titles, Sonic CD was headed up by character designer Naoto Oshima, whose involvement in the franchise was halted after the release of the original Sonic the Hedgehog. It's often speculated that a strong conflict of ideas of how a Sonic game should play between Oshima and series conceptualist Hirokazu Yasuhara led to a split between the two designers' respective groups–Yasuhara, Yuji Naka and their team went to implement their own visions in Sonic 2, while Oshima constructed his new team to bring his own Sonic vision to life. Various elements–the presence of time travel in early builds of Sonic 2, the stylistic differences between Sonic 2 and Sonic CD compared to Sonic 1, and even the consistency of certain data between the two games–support the plausibility of this theory.
Oshima's wildly deviant and creative ideas really stood out from standard Sonic lore; while Yasuhara preferred more linear level designs that focused on a strict beginning-to-end formula with plenty of ways to reach that goal, Oshima created massive environments dedicated to exploration of the levels. The new, innovative time travel concept concreted the incentive to explore as the presence of hidden level elements, differences in layout based on the current timezone and the ability to destroy Eggman's badnik generators–affecting the course of the game's future and changing its environment–encouraged the player to go above and beyond to truly experience the game to its full potential. This element added an unbelievable amount of replay value to the game seldom seen in other Sonic titles. With the addition of the time attack–a feature omitted from most Sonic titles; rather ironic, given its often emphasized focus on speed–and several unlockable extras based on favorable results, Sonic CD kept the player coming back for obscene amounts of time, always offering new experiences and ways to play the game and always rewarding the player for their exploits.
Sonic CD excelled not just from a gameplay perspective, though–given the time of its release, it was also technically stunning. The inclusion of high quality CD audio, full motion video and an impressive three-dimensional special stage format pleased both eyes and ears as they went above and beyond the call of duty to deliver the player a brand new perspective on how Sonic games were presented. The traditional use of smooth jazz and 80s-era pop was abandoned in favor of Naofumi Hataya's powerfully catchy 90s house grooves, which proved to be just as fitting–if not moreso–of Sonic's prominent attitude and fast-paced platforming action. A new practice for the series–vocal theme songs–were also introduced in the title; they would not be seen again until the release of Sonic R, though their inclusion is much more akin to Sonic Adventure's use of vocals in music.
Despite being wildly different from any other Sonic title before it–and, indeed, any Sonic title after it–Sonic CD continues to leave its mark on both the franchise and fanbase as a whole. It set the stage for elements which would not become prominent in the series until nearly ten years later and left a tremendous impact on the people who played it, both positive and negative. It remains to this day the most brilliantly designed and well put together Sonic title of all time in the eyes of many, despite the massive number of alternatives (and, indeed, alternative styles of play) available. For that, CD absolutely deserves praise, credit and recognition.
Happy 17th, Sonic CD!