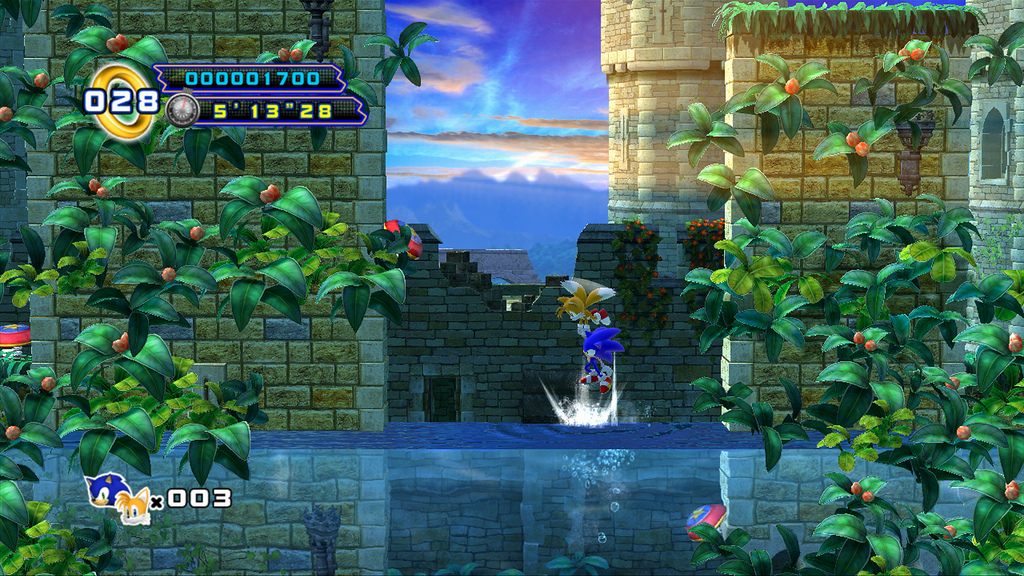 Sonic 4: Episode II taught me a lot of things: the power of teamwork and friendship. The soft bigotry of low expectations. The fact that WHITE CASTLE! SYLVANIA PARK! jokes never get old. But is this spiritual successor to Sonic the Hedgehog 2 a Hidden Palace or just lost somewhere in the courtyard?
When Sonic 4: Episode I was released back in late 2010, I pulled a sneaky move: I claimed that I was going to write the review knowing full well I had no intention of doing so. Because the game was basically damned from the start and so emotionally loaded for so many people, there was no way to actually talk about the game without talking about the huge fan backlash for it even existing independent of any merits of the game itself. After all, the fanbase (or rather, a couple dozen people on our forums who felt they could monopolize discussion) lost their minds and the ensuing chaos drove me insane. That sort of chain, my friends, is worse than a trail of Bubbles over a pit. However, I've always felt that Episode I is a decent game if you play it exactly in the way intended–for the player to spend most of the time flying around and smashing buttons for chains when necessary with a small amount of actual platforming mixed in. If the player wasn't used to the mechanics of older Sonic games, I'm sure the adaptation curve was much more natural than someone who was thrown off when Sonic controlled like ass. It wasn't exactly my cup of tea, but I can see where someone who grew up on Sonic Adventure and Sonic Adventure 2 could enjoy it.
That there are 12 year olds who have no memory of games before Sonic Adventure 2 both makes me feel old and helps put the Sonic 4 saga into context.
In contrast, the hype around Sonic 4: Episode II has been mild at best. After the PR blunders made with Episode I, there was little faith that Sonic Team and Dimps would make much change or improvements. After all, why should they? Episode I, flaws and all, sold more than a million digital copies. There were feedback meetings, but they failed to inspire much confidence. There was an unintentional game leak, but no one really seemed to care.
(For the record, Sega? Please stop the "there will be changes from this build" when a near-final game is released shenanigans. It just makes you look bad.)
Regardless, Sonic 4: Episode 2 has arrived for Xbox 360, PlayStation 3, iOS, Tegra 3-powered Android devices (non-Tegra 3 Android owners should be seeing a release in June) and Windows Phone 7. The game picks up on the Sonic 4 story by having Sonic and Tails team up to defeat a resurgent Metal Sonic while Dr. Eggman builds the Death Egg mk.II using Little Planet. The game diverges from its spiritual predecessor of Sonic the Hedgehog 2 with the addition of Tag Actions, first seen in Sonic Advance 3. With Tails' accompaniment, three new actions open up: the Copter Combo, which lets Tails carry Sonic and fly him over short distances, the Submarine Combo, which is essentially the same action but for swimming, and the Rolling Combo, a powered-up Spin Dash using Sonic and Tails combined in a ball. These new actions bring a breath of fresh air to Sonic's gameplay style, and I am actually a big fan of the concept–they feel organic, natural and a natural evolution of 2D gameplay. What's frustrating is that these new moves are hardly utilized by the game in any creative fashion. There are parts where the Copter Combo is required to move forward in a stage, but few points where choosing it over traditional gameplay is rewarded. I struggled to find any points where using the Rolling Combo would break through a hidden wall or do something beyond clear a temporary barrier in the main path. There are times (most notably in White Park) where if you choose to use the Copter Combo and then land instead of run on a path, you will die. I love having options, but don't actively punish me for choosing them.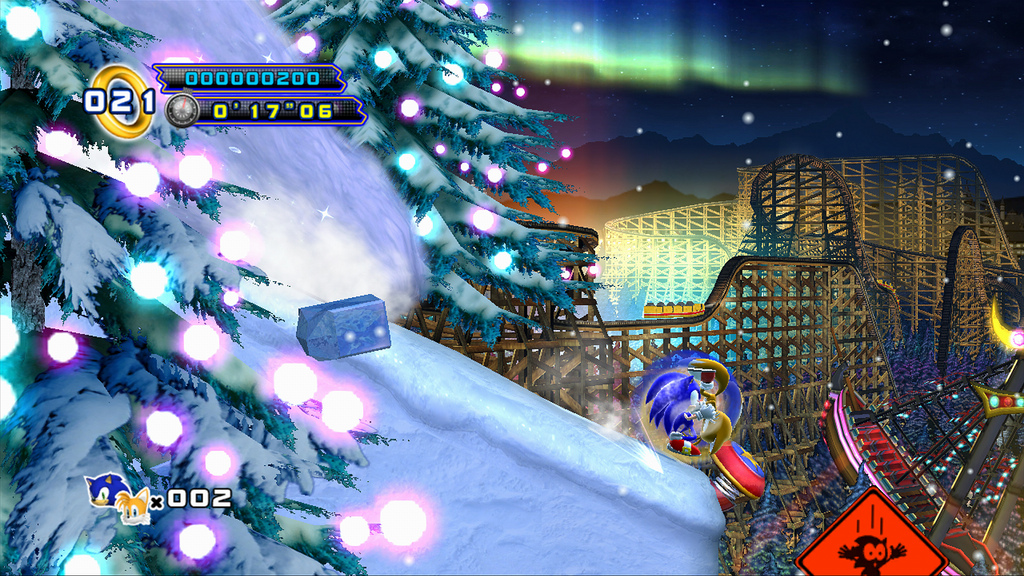 The physics have made strides in improvement since Episode I: controls feel slower and more deliberate, and many of the most egregious errors of Episode I (slopes that Sonic should fall off of, sudden bursts of speed, uncurling in jumps, complete drops in momentum) have been resolved, but the game still doesn't "feel" quite right in terms of weight and paths where speed is added arbitrarily to the character . It comes very close, though, and should be fine enough for the majority of players–it's really only the Retro contingent that will want more fine-tuning.
The music in Episode II is underwhelming, to put it lightly–most tracks fall somewhere between forgettable and offensively, turn-off-your-speakers bad. This is especially baffling to me given that at the end of Episode I, Sonic Retro was solicited by Sega to give a copy of the same tools we use to create Mega Drive music. The excuse used last game of lacking the resources to pull off authentic Mega Drive music no longer applies. I can appreciate the desire to have a different, yet still lo-fi synth, sound, but the execution of it in this case was just horrendous. The only track I could find myself relistening to would be White Park Act 2, and this is only for the Twinkle Park homage in it. There are tunes I sincerely like (Sky Fortress Act 2/3 in particular) but the arrangement and instruments are so shitty that they make me hate the song by association. It really is a shame, because there are remixes and arrangements of the songs done by fans that really show the songs in a better light–I just wish the release had those instead.
It's a shame that it feels like more time was spent in making these adjustments than making a quality game, though. The levels themselves feel very bland and uninspired. They should have just named Sylvania Castle Zone "I Want to be Rocky Zone," because you will do a lot of pointless jumping up and down on stairs. Were there complaints of long straight lines in Splash Hill Zone? Yes. Was this the way to solve that issue? No. Sylvania Castle itself is an interesting setting, but little is done to really make the zone memorable–the destruction of pillars to climb across is rather prosaic, and the zone feels more dense than expansive. Its boss, Egg Serpentleaf, is oddly reminiscent of classic Knuckles' Chaotix boss fights, and is just as boring as those were back in 1995.
The Special Stage is pretty straightforward: take the Sonic 2 special stages, add slight variations. It's executed decently, though I'm not a fan of the slight cutscene after each round, which slows down gameplay.
White Park, the only truly new idea brought to Sonic 4: Episode II is probably the most interesting zone in the game, but is still immensely frustrating in its blandness. Tunneling through snow is cool, and the traps set by freezing water are interesting, but it's supremely annoying to see novel things like swings and carousels in the background and then realize you will never get to see or interact with those things. The concept is right there–why were these things never put in the game? By comparison, Casino Street Zone at least had the memorable flying card rides and flipping card platforms; there's really nothing like that in this zone, or any zone for that matter. The Metal Sonic race boss is a nice fight but does drag on a bit longer than I would have liked–it really should be a sub-2 minute thing.
Oil Desert's wind and quicksand mechanics are nice in concept, but again, nothing really interesting is done with them. Being blown backwards and having to race forward isn't awe-inspiring. At least the sand falling traps seen in Act 3 are motivating and fun without being cheap. The boss of this zone really epitomizes the flaws of the game: a short, annoying boss track, a plodding boss with no real difficulty or sense of urgency and a baffling last-minute switch in fight style. Normally, that's a good thing, but in the case of A Giant Born of Scrap Metal, it's just a senseless shift.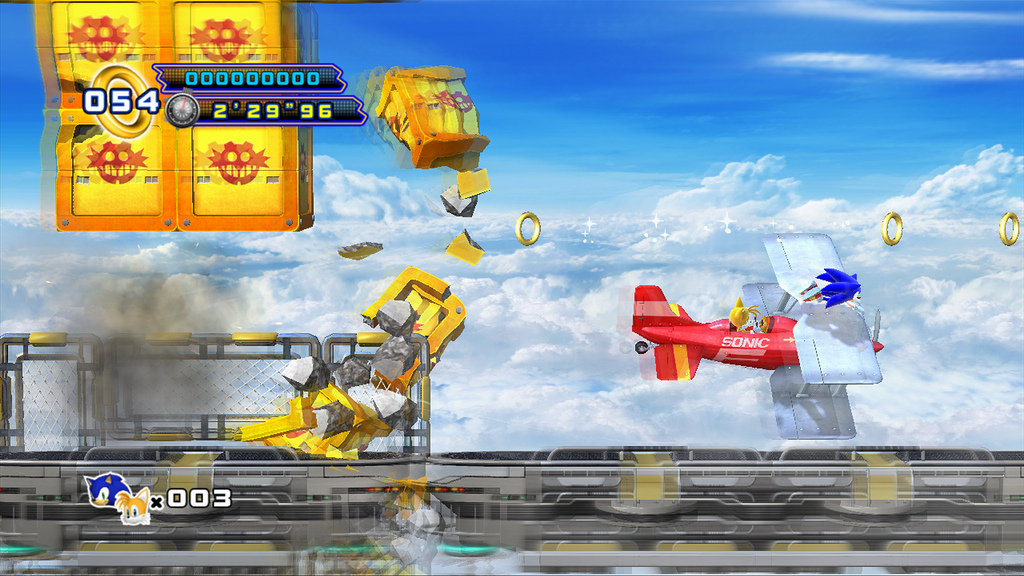 Sky Fortress stands out to me as the only really fun level, even if it is also the least interesting: the Sky Chase homage in Act 1 was a pleasant surprise and managed to pull a creative twist with the Tornado ramming through obstacles that made it feel fresh. Acts 2 and 3 truly feel like there are multiple paths and places to explore in a way the other zones do not, which makes up for the dull setting. A fortress that flies and is on its way to the Death Egg? Nope, we haven't played this setting a million times.
Death Egg mk.II definitely takes a few minutes to get used to–the rapidly rotating stage can be a bit nauseating (or maybe I'm just getting old.) The two  Metal Sonic fights are a blast, including a certain Stardust Speedway nod (!!!) Moreover, the final boss of the game (which I'll let you discover, dear reader–no need to spoil) may in fact be one of my favorite Sonic the Hedgehog series boss fights, which came as a great surprise. It hits a lot of sweet spots and actually utilizes the strengths of Sonic 4 in the best way possible. It's a shame the rest of the game didn't receive the same amount of love and care that this obviously did.
In the interest of full disclosure, I did not have an opportunity to play Episode Metal (I have Episode 1 on Wii, 2 on 360) but if you like playing model swaps with improved Episode 1 physics and new Act 1s of Episode I's zones, it's probably not bad. I can't say I would go out of my way to buy Episode I if I didn't already have it for this particular feature, but it's worth checking out if you have both games on one system.
I can't say that I would recommend this game at the $15 price point it's currently selling for; perhaps if both Episode I and II were  combined at that price, it would be different. If you can get it under $10, the four or so hours it takes to beat the game start to finish would probably be justified. The meat of the game–the actual zones themselves–just feel too amateur and fangame-y to really recommend, and though there are some genuinely neat and fun parts of Episode II to consider, they're not strong enough to override what are some really boring-ass levels. If more care had been taken into making interesting levels (especially with the rumors of an Episode III and more backward-compatibility) I would feel differently, but that's the main stumbling block on what would otherwise be a solid improvement over S4E1. Sadly, for all the flaws of Episode I's levels, they're pulled off better. If the design issues can be resolved (and, for the love of God, some better music can be placed in here), we might finally have a game that could honor the Sonic 4 name by any theoretical Episode III.
tl;dr: It's OK, but it's probably not worth $15–wait until you can get it on sale.