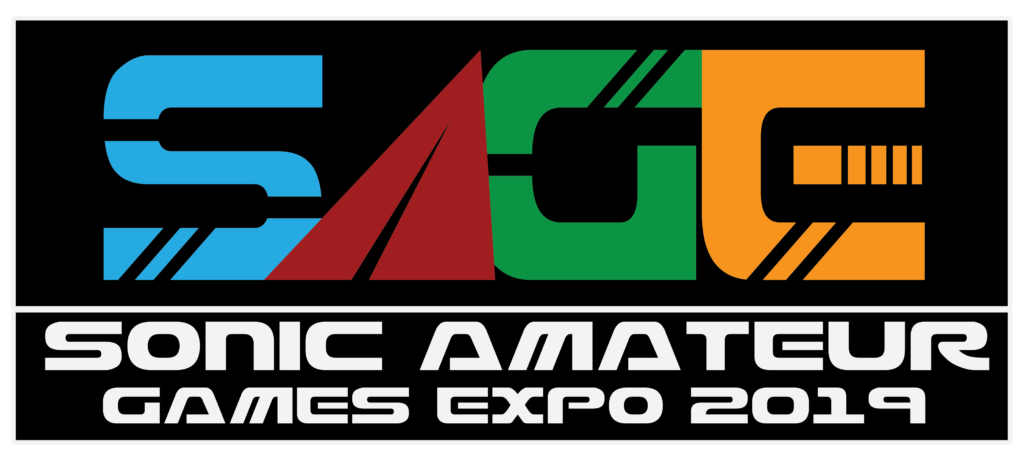 Sonic Amateur Games Expo 2019 is finally on its way, with plenty of new games to play, streams to watch, and so much more! Given that it's the 30th anniversary of the SEGA Genesis, SAGE's theme is a celebration of SEGA's most successful console and the series that started it all. This year has seen some major tweaks to the guidelines, as well as TWO logos to choose from (we know how much some folks prefer "Mega Drive" over "Genesis,) so hit the jump to check out what's new and we'll see you September 27th!
Submission Guidelines​
Game entries must be submitted to 

[email protected]

.
Each game entry must have a logo/title image to display for it's respective game in PNG format, that is exactly 500 x 400. Think about the art you'd want on the box art/disc/cartridge for your game. It is recommended that you keep the actual title of your game in the upper half of your logo/title image.
All game entries must be submitted by September 20th. If your game will not be finished before that time, contact the SAGE gmail. You need to have SOMETHING, even if it's a busted demo as a place holder, if you need a couple extra days, as you can always update your entry after registration. but you MUST be ready by the 27th, the show goes on with or without you.
ROM Hacks are allowed, given they significantly change something about the games they are based on.
To make things easier on both the staff and those submitting to the show, we ask that you use Sonic Fan Games HQ's showcase to enter your submission. We've got a whole nifty guide from years prior on how to do so! We're doing some site maintenance to prepare for the event so if you get any bad SSL errors (connection not entirely secure error), that'll be fixed quite soon, don't worry and won't actually cause you any issues submitting.
If you have multiple game projects to submit, please follow the submission guidelines for each project and submit them separately.
Engines are welcome but must follow the same guidelines as stated above.
The Trailer​
Like every year, we will be making a SAGE trailer. This is pretty easy to do. If you'd like your submission featured in the SAGE 2019 Highlight Trailer, please send a separate email with your footage with "Trailer" along with the name of your game in the subject line. We ask that the game footage be kept to 10 seconds, is preferably 1920×1080, and 60 fps. Please submit your footage no later than September 12th.

Regulations
Your submission needs a minimum amount of effort and substantial content. This is by no means strict. What this means is we're trying to avoid submissions in which a fan game engine's built-in test level was exported with only minor tweaks, or is just an empty scene with a Sonic model in it, or similar cases. These are not game demos, they are essentially nothing, and are tantamount to spam that misleads people and drowns out other submissions. This is not a matter of how "good" your submission is. The issue is with submissions that offer nothing at all, and attempt to pass off an engine's built in stock content as a new or original game.
We want to be clear, there is no expectation of quality, we do not judge how "good" a submission is. Do not worry about how "good" you think your submission is; all we're looking for is a little effort and something unique to share. SAGE is not a contest, it's a place for people of all skill levels to show off what they've learned, get feedback for improvement and for us to all have fun with the cool things we all create for each other. Bullying of people with legitimate submissions because they're "not as good" is not an acceptable behavior at SAGE.
Whether you choose to host the game on SFGHQ (recommended) or choose an alternative hosting method (perhaps due to file size), you must make your submission easily accessible. Either a direct download from the booth or only a couple clicks away and easy to find if you're hosting on another site. We will not host submissions that require excessive, arbitrary or unusual limitations to access, unless there is a very justifiable reason.
Do not hold your submission hostage
For example, do not host your submission on a forum which requires signing up for an account, or require people to join your Discord server, or force them to use an external download manager application, or built in "DRM" that makes the content difficult to access or remotely controlled. You're submitting your game to SAGE for people to access and enjoy first and foremost, not to farm stats by holding your content hostage or to attach strings to people. You are however welcome to promote yourself, your Discord server or whatever you like with your submission, as long as it is reasonable and not restricting anything.
Your game should be a game
No spooky stuff! If it does anything else other than being a game, such as secret data collection, any form of "remote control", requires online checks for non-online content, observes or interacts with system processes for non-gameplay purposes or any of that sort of nonsense, it is not considered acceptable at SAGE. This is a place for people to share things they created in a friendly, safe environment, not spooky things that make someone wonder if playing your game is going to get them hacked or do something crazy. Obviously, actual malicious software or anything of that sort is a severe no-no and will be dealt
with harshly.
Streaming Guidelines
To reserve your time for streaming, please send an e-mail to 

[email protected]

You MUST have prior streaming experience. If you cannot present a stable stream, you will be taken off-air, and your time slot will be turned into free time.
The reason for the above requirement is so you actually know how to stream instead of trying to spend an hour trying to figure it out, live in front of everyone. We don't want you to embarrass yourself, just as much as we want to avoid dead air! Just a little practice and time spent figuring out how to make it work ahead of time is all you really need to meet the above requisite. If you don't have prior streaming experience, you can spend a little time broadcasting a few games on twitch to your pals at SFGHQ, Retro, SSRG or whatever other community you may be from. Just a few times is enough to get the hang of it!
Each stream entry must have the following:

The name of your stream.
The time at which you would like to broadcast your stream.
What content your stream will involve.
A link to your current stream page.

Stream times are first come, first served and decided by SAGE staff. Should the slot you request conflict with a pre-established stream, we will contact you to work out the best possible alternative time.
Free-time streams and unscheduled streams are at the discretion of the SAGE staff.
We will do our best to work with and around everyone's schedules. Keep in mind we will have plans in the beginning and end of SAGE, but the rest of the slots will go quick. Make sure to get your submission in as soon as possible!
Unless you have a very specific reason for your show to be longer, please try to keep slot reservations in the 2-3 hour range, though this is a loose restriction that is much more lax during the less active hours of the event . (Usually 1 am to 5 AMish)