If there's one universal aspect people can agree upon when it comes to the Sonic the Hedgehog series, it's that the music has always been pretty darn good. This is true even for Sonic 2006, a game which has become the punching bag for the series since…well, 2006. For many, one of the highlights to that soundtrack is Silver's theme, "Dreams of an Absolution." The man who sung his heart out on that track all those years ago, Bentley Jones, revisited the track just in time for Sonic's 28th anniversary. And he made a music video to go with it!
That's one tall building.

Though Bentley hasn't been part of an official SEGA game release since the original All Stars Racing, he has been doing his musical thing steadily over the years. This is not the first time he's remixed his classic vocal theme, producing two previous takes on 2011's Trans//ation 2 and 2015's Trans//ation 3. Keeping on brand, this new version is part of the aptly named Trans//ated: 10th Anniversary Album, which you can purchase from his official website. Though the rest of his latest album isn't yet on streaming music services, "Dreams of an Absolution (2019)" can be streamed on Spotify, if you feel the urge to put it on repeat every night.
Want a bit more Bentley? Well, you're in luck. Sonic Retro member ParleyMint recently conducted an interview with the musician, posting it in the forums:
ParleyMint: Your first vocal contribution to the Sonic franchise, Dreams of an Absolution, is a fan favorite. With the abundance of remixes of this song, it's clear that you're particularly fond of the song. What sort of connection do you have with the song (be it emotional, professional, etc)?
Bentley Jones: I have a soft spot for "Dreams" because it was my first vocal theme for Sonic, so it'll always have a place in my heart. I have an emotional connection to all the songs I write because I've always tried to write very honestly and openly and "Dreams" is no exception. I wrote it about a break-up I was going through at the time and I was crafty enough to make it sound like it was about Silver's story too.
You can check out the rest of the interview here.
Is this the only interview ParleyMint has conducted? If you said yes, then you're sorely mistaken! Back in February, Parley interviewed Crush 40 vocalist Johnny Gioeli, and the following month spoke to Tomoya Ohtani on his work for Sonic Forces and Runners, among others:
ParleyMint: On the topic of Sonic Forces' musical direction, the amount of vocal tracks in the game is quite large compared to previous entries. How did the decision come around to make the Avatar stages' music vocal-centric?
Tomoya Ohtani: Avatar has no dialogue, and doesn't speak in game, but his / her emotions change as the story progresses. I felt that it would be interesting to let these changes be expressed in the vocal parts of the Avatar stage soundtrack. This approach may be similar to the Rap parts in the Knuckles stages for Sonic Adventure 2. Also, I felt that these fragmented vocal parts would be a good match in the Drum'n Bass, EDM type music in the Avatar stages.
Both of these interviews are definitely worth checking out, and we thank ParleyMint for taking the initiative to interview them in the first place. We look forward to see who he may talk to next.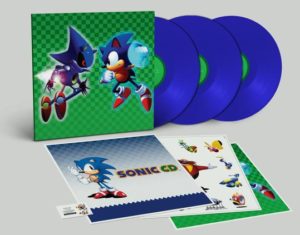 To wind down this round up, two quick notes that you might already know. The first? Earlier in the month, music label Data Discs announced a vinyl pressing of the original Japanese score to 1993's Sonic the Hedgehog CD. Yes, the irony is not lost on us. Pre-orders continue until September, but if you're interested? You should do it sooner rather than later; the limited edition clear vinyl is already sold out.
Secondly, Jun Senoue's latest album, The Works III, is now available. You can stream it in the usual places, or if you feel inclined, purchase a physical version you can hold onto for all time. There are plenty of live performances on the tracklist, as well as the first time any of the Sonic Adventure Music Experience tracks been commercially released, so it's worth a listen for that fact alone.
That's all for now. So um. Yeah. Listen to music I guess.