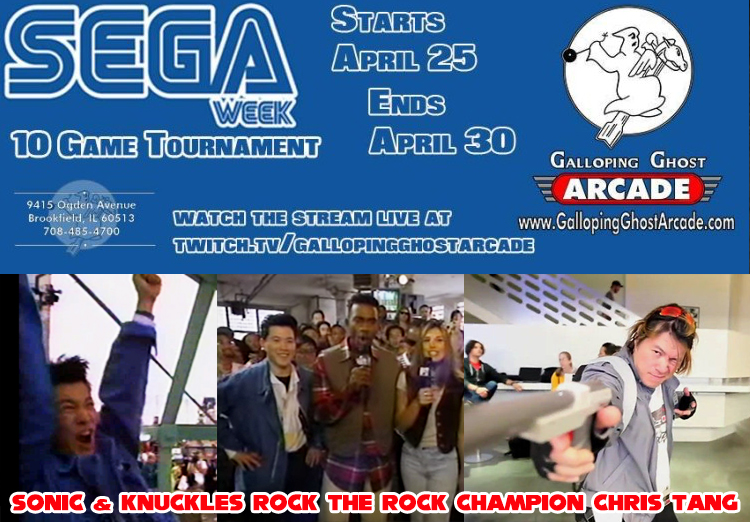 Sonic Retro sister site SEGAbits (say that ten times fast) is collaborating with Galloping Ghost Arcade, America's largest arcade, for SEGA Week from Monday, April 25th to Saturday, April 30th at midnight. Galloping Ghost Arcade is located just outside Chicago in Brookfield, IL, and features over 500 classic and modern arcade machines, and several of them are made by SEGA. SEGA Week's main focus will be tournaments covering 10 SEGA arcade titles, of which will remain a mystery until the day of the tournament. Still, if you want an idea of what to expect, the arcade has SEGA titles which include OutRun, Space Harrier, Thunder Blade, Monkey Ball, Crazy Taxi, Zaxxon, Michael Jackson's Moonwalker, Golden Axe, Golden Axe: The Revenge of Death Adder and several more. It is also the only arcade in America to have both SegaSonic the Hedgehog and Sonic Championship.

One special guest, who will be in attendance all week long, is Sonic & Knuckles Rock the Rock finalist and champ Chris Tang! Back in 1994, SEGA of America held an insane Sonic & Knuckles event on Alcatraz Island dubbed "Rock the Rock", featuring TV coverage by MTV and co-hosting duties by Daisy Fuentes. Sounds crazy, right? Well that's the 90s for you. Chris Tang's other accomplishments include the 1990 Nintendo World Championships grand finals and in later years becoming a creator in the game industry, contributing to franchises that include Street Fighter, Transformers, Marvel vs. Capcom and Power Stone.
April 30th is SEGAbits Saturday, which will highlight the many SEGA games celebrating anniversaries as well as the arcade originals of the SEGA 3D Classics titles – SEGA 3D Classics Collection releases that same week to the Nintendo 3DS. We also plan to feature special Sonic the Hedgehog tournaments and there will be surprise reveals of classic SEGA arcade machines playable for the first time at the arcade. And, of course, Chris Tang will be there.
For details on the arcade and more, visit the Galloping Ghost website and the SEGA Week event page on Facebook.