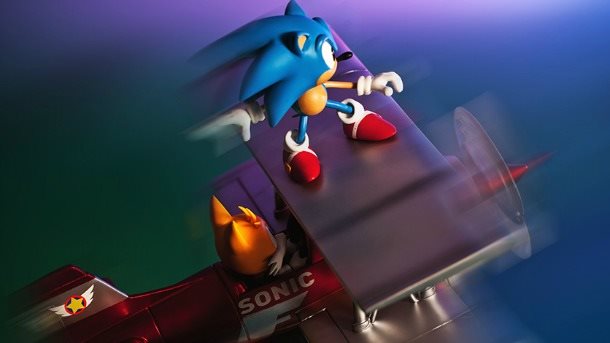 First 4 Figures have unveiled their latest statue – and man, is it awesome.
The statue is a fantastic diorama of Sonic and Tails taking flight in the Tornado, with the store page describing it as from Sonic 2's climax (and quite a decent description it is). Accurately, they've included the rocket booster Tails strapped to the bottom of the plane – and it even lights up! Those who have kept up with these statues over the years have probably come to expect some form of illumination to be included, but this goes beyond what I expected.
The statue is available for pre-order now from the First 4 Figures site. According to the page, the figure is slated to be released at some point in Q4 2015 and will stand approximately 17.5" tall.
If you've got some cash to drop, you can do a lot worse than F4F – all of their output has been absolutely stellar; but when you're asking $299.99 and only releasing 1,000, what do you expect, really?

(P.S. Isn't this one cool too)