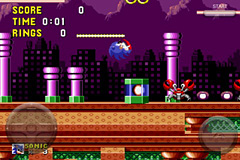 Coming on the heels of 2009's Sonic the Hedgehog release for the iPhone, Sega has released a version of the same game for Android phones in Japan. This version features an emulator and ROM combination, as opposed to a port, and somewhat accurately emulates the original Sonic the Hedgehog for the Mega Drive. The game retails for ¥700 and can be purchased from Android Market, au one market or Gゲ.
No announcement has been made as to whether the game will be released on the Android platform in other regions yet.
For more information, see the official site for the Android release.