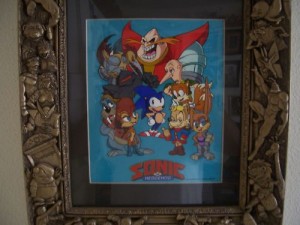 If you're like me, you heard about vigiljeff's eBay auction for the original painting used for the United States' and Europe's cover of Night Trap, which wound up selling for more than $1,500 USD, just a little too late to do any bidding. However, it put the former Sega of America employee, who worked in the facilities department of the company, on the radar as a potential seller of rare goods.
vigiljeff is back on eBay this week with four new auctions: pre-production figures of Akira Yuki and Sarah Bryant, a framed print of the character from Sonic the Hedgehog in an admittedly pretty awesome frame with many characters from various DiC properties carved into it, but perhaps most interesting is the final item, an art scroll drawn by one of four Sonic Team employees who were flown into America to finish NiGHTS into Dreams in his spare time. In the auction description, vigiljeff explains:
Even though they spoke very little English and I spoke no Japanese, whenever they needed something, they would e-mail my department and I would get it up to them, so I got to be pretty good friends with them, especially one guy, and even if I could remember his name I couldn't pronounce it.

But anyways, at night or when he had time, he would be working on this scroll painting & drawing and writing. I don't even know what game the characters are from that one. I'm sure one of you gamers out there will know right off, or if someone can read Japanese the writing will tell you.

And the cool thing about all this, when I went to drop them off at SFO for [their] flight back home, I unloaded all [their] stuff onto two airport carts, the guy grabs this scroll out of one of his bags and hands it to me and in his best English says, 'Thank you for all your help. This [is] for you.'

I didn't know what to say, so I bowed my head to them and shook [their] hands and said have a safe flight and went back to work.
At any rate, any of these pieces would be great collector items to have, but the scroll in particular seems really interesting: a look into the mind of one Sonic Team employee during one of the most diverse times of creative output by the studio. Pictures of the scroll are below.
[via GameSetWatch]