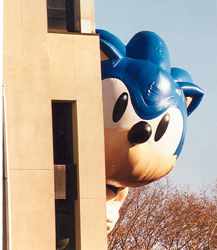 After some years of hiatus and not at all due to a terrific crash into a street light and children due to high winds, the original video game mascot balloon is back to celebrate Sonic's 20th Anniversary.
This year during The 85th Annual Macy's Thanksgiving Day Parade, amidst all the floats, balloons, marching bands and ear-bleedingly bad showtunes, will feature the return everyone's favorite manic blue hedgehog once again inflated with an air compressor and strung along for the enjoyment of everyone.
While it's unknown if it will be the same balloon used in the '90s parades or a newer one of everyone's favorite green-eyed menace, we can only hope that we don't have another Hindenburg on our hands, as seen below.
Thanks to the tipsters who reminded us of this as we've been busy with our own festivities.
[Source: Sega.com]