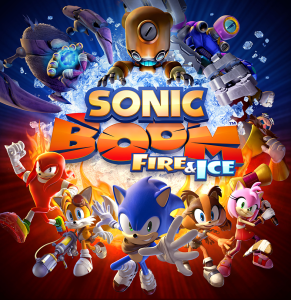 So this is a surprise – SEGA have announced a new Sonic Boom title, named 'Sonic Boom: Fire & Ice', coming exclusively to 3DS during 'Holiday 2015'.
So far, details are pretty scarce but we can report that playable characters will include the main four and Sticks, with Eggman returning for villain duties alongside all-new bad guy, D-Fekt. Reportedly the game also features a new mode known as Bot Racing that will be tied to the single player campaign while featuring multiplayer elements. What this means is anyone's guess at this point, but it will be focused on racing and speed (duh) where users unlock bots based on the characters.
Development duties are with Sanzaru Games by the look of the trailer, who were responsible for Shattered Crystal. Given the infamy of the previous two Sonic Boom-related titles, we'll hold off on any excitement for now. You can check out the trailer for the game below.

Edit: Click below to check out the first handful of "Boom-tastic" screenshots.
Continue Reading