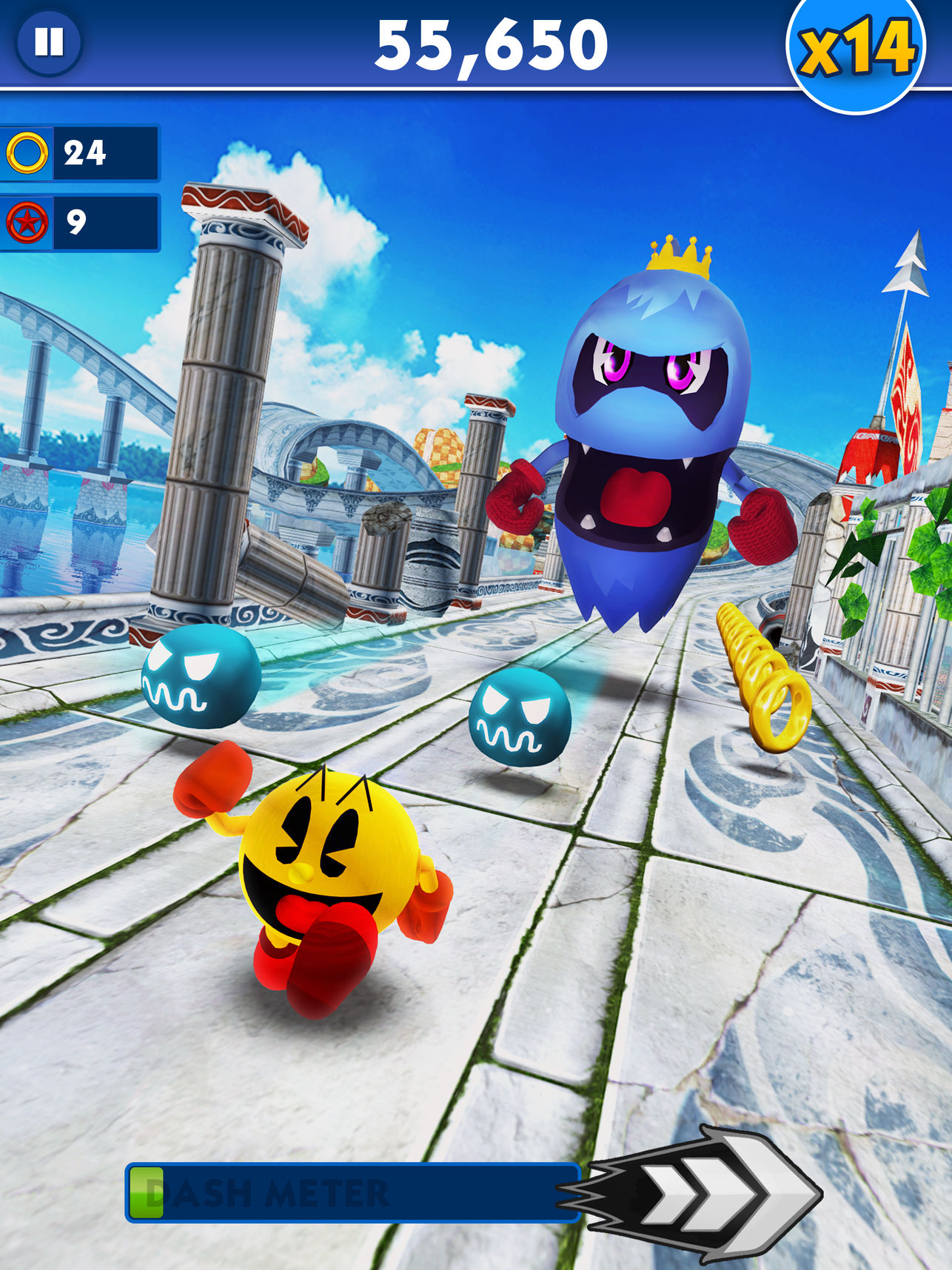 It's hard to believe that the mobile title Sonic Dash is almost five years old. With over 100 million downloads and two sequels under its belt, the endless runner certainly shows no signs of stopping. To celebrate its anniversary, the official SEGA HARDlight Twitter account made a brief teaser video as to what they'd be doing to celebrate the occasion. Dialing up a certain spherical gaming icon, Bandai Namco tweeted a follow-up where none other than Pac-Man picked up the phone. Though they had previously tangled in the world of Super Smash Bros., the two titans have teamed up for a crossover that conveniently fits in your pocket.
Updating the app on your device of choice, players can now unlock Pac-Man for a limited time. Your vintage badniks have been replaced with the classic ghosts, and using the dash move even turns them blue! Sadly, we don't get to see Pac-Man's smiling face tackle Dr. Eggman, the evil genius being replaced with a giant ghost named Bash. Wearing a crown, the only guess is that maybe he's a supercharged Inky? Though he doesn't seem very bashful anymore if that's the case.
Instead of being content with just one mascot hopping into another's game, the two companies have gone that extra mile and done their own video game exchange program. Not only is Pac-Man running about Seaside Hill chompin' on ghosts, Sonic the Hedgehog has jumped into the mobile version of Pac-Man. Running about a maze version of Green Hill Zone, the classic Motobug rolls about trying to stop Sonic from getting those rings and his animal friends. In Pac-fashion, the red badnik rolls about with pink, blue, and yellow variants, and turn that dark shade of blue if Sonic grabs an invincibility item box. Heck, one of the mazes even has the word "run" in it, so you know what's up.
As with Sonic Dash, the Sonic maze in Pac-Man is only available for a limited time, so be sure to download both as soon as possible. Though with this new development, there's one thing to consider…since both these games have had cross-promotions with Hello Kitty, how long until we get the ultimate crossover with all three having wacky adventures and solving mysteries? You know you want it to happen.