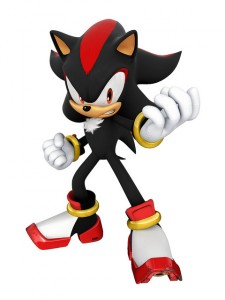 Considering the hodgepodge of characters celebrating the fact that Sonic is one year away from boozing it up in America, it's natural that the series original the character with a darker, edgier tone joins Metal Sonic in crashing the festivities.
Sega officially revealed the long-known fact that Shadow will be out to thwart his goody blue counterpart, bringing with him a new slightly edgier look in small details, such as paint stripped off from his hover skates, and some more jagged lines across some of his red stripes. A subtle way to tell the player that he's not here to emo up a party or play support character;  he's here to kill Sonic.
With Metal Sonic and Shadow now officially revealed, it's only a matter of time before the time traveler with psychokinesis crashes the party and sends Sonic into space.