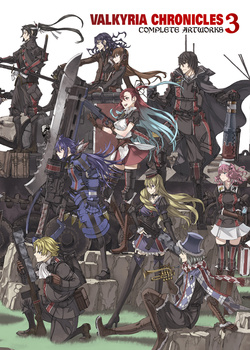 Good on Udon. Outside of the select music  tracks featured in the Humble Music Bundle a couple of months back, they're set on releasing the corresponding artbook for Valkyria Chronicles 3 in the US and is now taking pre-orders on Amazon.com. Despite the fact that, well, we never got the game it represents. While it may seem rather ridiculous to see this artbook for sale, it is a possibility for Sega to try and test the waters for a US release of the game. Furthermore, it may see a new light yet through digital distribution on the Playstation Network for Playstation Portable or Playstation Vita owners due to Sega's revised business strategy.
Or we could just be getting the artbook and piracy is still rampant on Sony devices. Such a harsh reality. On the plus side, there'll be plenty of character biographies and story summaries to avoid all that pesky gameplay. The book's release is set for December 2012.
[Source: Amazon.com, Cheap Ass Gamer, Udon Entertainment]
UPDATE! Udon Entertainment's front page has nine images to showcase the English version of the artbook.You can also see them in the gallery below.