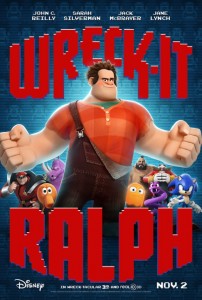 Disney recently released a new trailer of Wreck-It Ralph, which features Sonic desperately trying to look cool by doing an old pose he did for Sonic 2006. Eggman appears on the poster as well along with other characters like Qbert, Zangief, M. Bison and Qbert. You can click on the poster on the left for a bigger version.
Sonic appears in the new trailer as well. You can see that one here. He only appears of like one second so blink and you might miss him. He also appears in a different scene in the Japanese trailer for an even shorter amount of time. He appears at about the 0:36 timestamp. In the scene it looks like he joined a party with a bunch of characters from the fictional game the main character of the movie comes from, Fix-It Felix Jr. You can see Wreck-It Ralph in theaters from November 2nd.
UPDATE: Disney has released four more posters for the movie, with one of them having Sonic front and center and another one with Eggman standing behind M. Bison. Another one of the posters also has that rhino boss from Altered Beast, so that's neat. Also, yes Sonic does actually look kinda cool in the new poster, but my point that he is desperately trying to do so still stands! You can see the new posters in the gallery below.