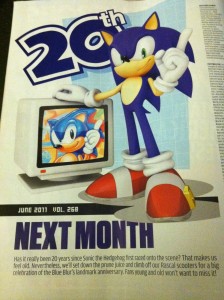 As Sonic's 20th Anniversary year chugs on, Sega has shown three titles for the franchise in a tease of Sonic the Hedgehog 4: Episode 2, the duel of mascots thrice over in Mario and Sonic at the London 2012 Olympic Games and an assault of media for the upcoming PlayStation 3 and Xbox 360 Sonic Generations.
And yet, it seems that aside from a downloadable game and a collection of mini-games that Wii and 3DS owners are hardly getting any love in the form of a substantial Sonic platformer.
That may all be changing as next month's Nintendo Power magazine includes a rather substantial teaser for the celebration of Sonic's 20th Anniversary, featuring an edited version of teaser art for Sonic Generations. Could it mean that Sonic Generations is headed to a Nintendo console?
At the moment, it's unlikely, but considering that Nintendo's Project Cafe is set to be demonstrated at next month's E3, and one of its rumored bits of design allows developers to easily port games from Xbox 360 and PlayStation 3, it's certainly a possibility.
Or it could even be a brand new title. This would go against what Sega of America Vice President of Sales and Marketing Alan Pritchard said in an interview with GameInformer last year stating that the company only had three new titles lined up for the franchise, as we already have three titles for the most part announced.
After the warm reception Sonic Colors got on both the Wii and DS in sales, a Sonic title for any of the console giant's trinity is all but confirmed.