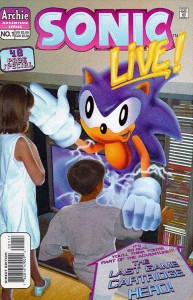 When Ken first wrote the ending to Princess Sally's Crusade, it's doubtful that he thought beyond that simple page of a happy ending. A moment where Sonic and Sally were able to find peace, years after their battle with the evil Dr. Robotnik had come to a close. Back when the Saturday morning cartoon still reigned supreme, before Sonic Adventure and the Japanese continuity became commonplace, even before most Americans realized there was another comic book being published in the U.K. that tried to be closer to the games, albeit the Kintobor storyline that no longer is considered canon by anyone who works in the halls of SEGA. It was a just a moment where Ken thought he'd be clever, coming up with an interesting spin on the origins of NICOLE, something the TV show never got the chance to cover.
By the time Sonic the Hedgehog #131 hit newsstands, no longer was the comic book storyline the simple tales of good versus evil. The main story had taken on numerous twists and turns, incorporating elements from other shows, other games, a hodgepodge of Sonic the Hedgehog that didn't always gel correctly. If Ken were to make a comprehensive future of every single character, of every single possibility, he may have gone mad. Indeed, sometimes it felt like his own mental state was in danger, with all the rumblings of internal strife happening in the halls of Archie Comics. Sometimes, it was a miracle the book was published at all, regardless of the quality.
As stated before, when Ken's final installment of Mobius: 25 Years Later saw print in Sonic #144, that was never the intended ending. Ken had not gone through all that effort to leave the future as a perpetual cliffhanger. There were plans for more, though they never saw fruition. The happy endings for Sonic, Sally, Knuckles, Lara-Su and the rest instead remained only in Ken's mind, until Ian ushered his own interpretation of the future.