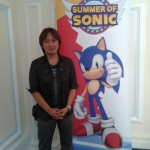 Over the past few years the Sonic series has hit a bit of a renaissance, with Colours and Generations achieving relative success critically as well as commercially. Typically, just as this turnaround is achieved, the newest game shows signs of radical change to the 3D Sonic formula that had finally gained acceptance. Sonic Lost World's new design is the kind of decision that means it's always interesting to chat to Takashi Iizuka, the man at the top of Sonic Team today and the public face of the team. He's always cheery and approachable, but you can never quite predict the answers you'll get from him. We caught him right at the beginning of Summer of Sonic, as the organisers were on stage welcoming attendees!
[Sonic Retro sits down at one end of the large room, with Iizuka and Sega's interpreter. At the other end, Jun Senoue is faintly strumming away on his guitar, playing the Station Square music. When asked which site we're from, the reply elicits the customary "Ah, Sonic Retro" from Iizuka.]
Retro: We're seeing Sonic Lost World at the convention today, and one of the things that is very noticeable is that it goes back to an older, more classic visual feel for the game, with recognisable elements of the original Sonic the Hedgehog design. What motivated you to make this change?
Iizuka: With the previous game (Sonic Generations), it was for the 20th anniversary so we decided to celebrate Sonic's history. With that one, we tried to compress 20 years of history into one title and aimed for a high quality, HD re-imagining of what Sonic could be. With Sonic Lost World, what we wanted to do was imagine how best Sonic should be going forwards. So we looked back at what we had done before and tried to think about what would the best, playability-wise for Sonic going forwards, and what's the best look for Sonic.
With Generations, it was HD and really detailed, almost so much that it was hard to see the rings when you were running through the levels. So this time, we stripped everything back and tried to renew Sonic, and we simplified the graphics to match the playability, the style of what Sonic should be.
[Read on for Iizuka's views on the limitations of Sonic's previous 3D outings, inspirations for Sonic Lost World and differences between working in the USA and Japan!]
Continue Reading