It's that time of year – Geoff Keighley is back on stage, looking business casual as he hosts the Summer Game Fest. Being a Sonic fan, you never really know if you'll get anything at these events, yet you can't resist tuning in anyway. Today, sandwiched between news about Remnant II and Honkai: Star Rail, a certain blue hedgehog suddenly ran onto the screen, with a certain weasel watching from the shadows.
Sonic Superstars is coming this fall. It's a new Sonic game! That's what we like, right?

It looked like 2023 was just going to be 2022, but more. More Frontiers, more Origins, more Prime. Suddenly, an announcement for a new 2.5D Classic game comes out of the blue. There he is – Classic Sonic, looking pretty slick, joined by Miles "Tails" Prower, Knuckles the Echidna, and Amy Rose. It's been a while since Amy's been playable, especially in 2D. She's finally getting her due, what with this and her being playable in Origins Plus. Clearly, she's celebrating her 30th anniversary in style.
Taking place in the Northstar Islands, the game plans to mix up the classic Sonic formula. One of the more interesting new features involves the Chaos Emeralds. Instead of only being the barrier between you and Super Sonic, the Emeralds are meant to give Sonic unique abilities. The trailer shows off a couple of these: changing form to swim up waterfalls, multiplying yourself to attack an enemy head on. Is it safe to assume there'd be seven new abilities? Maybe. There are seven Chaos Emeralds, after all.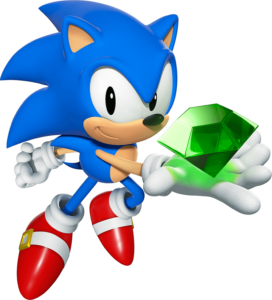 There's also a new four player co-op mode. Ever wanted to throw a party where you'd force your little brother to be Tails, your neighbor as Knuckles, and your history professor as Amy Rose? You can finally live that dream. Unfortunately, this mode is only for local co-op.
What might be the most exciting for long time fans of the franchise is who's making a return. In-game, Dr. Eggman won't be the only enemy you're going up against. Fang the Sniper returns, and unlike his brief appearance in Sonic Mania, he looks to be the real deal. Flying the Marvelous Queen, we get to see an official 16-bit rendition of the character, but are given the biggest tease as to how he'll look in 3D. Hopefully we see that sooner rather than later. Production wise? The creator of Sonic the Hedgehog, Naoto Ohshima, has returned to design a brand new character. His involvement was left for the press release, creating a character "that Sonic, and his friends will have to face." Whoever this ends up being, be it a permanent foe or a misguided individual similar to Knuckles or Shadow, we'll have to wait and see. Either way, it'll be exciting to see what he adds to the franchise after all these years being away.
As for the rest of the team, there's no word on who is developing the game, aside from the Sega/Sonic Team logos on the official website. Who is directing? Who is designing? Hopefully we'll find out soon. There's already been reports that the game will be playable at Summer Game Fest, so hopefully we'll get some hands-on coverage on how the game plays.
Could this be the true follow-up to Mania? Maybe. I dunno, I haven't played it. What I do know is that when the website went live, they accidentally had an image of the title screen with an early working title, Sonic Orion. I'm guessing that wasn't meant to be there, whoops. But hey! It's neat we know that now.

Sonic Superstars is coming Fall 2023 for $59.99, and will be available on all the usual suspects: PlayStation 5, PlayStation 4, Xbox Series X/S, Xbox One, Nintendo Switch, Epic Games, and Steam. "Additional details regarding packages and future content will be revealed at a later date." Whatever that means.
[Source: Sonic Superstars official site]