What's that? There's more Sonic news? Seems like yesterday there was absolutely nothing to talk about. Yet here we are, with more Frontiers footage, a closer look at Sonic Origins, and even the reappearance of the original Sonic CD in an unexpected place. So without further ado, let's jump in.
Sonic Origins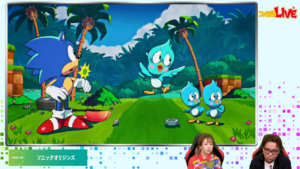 At 8:00 PM Japan Standard Time, Famitsu Live went on the air, giving us our first detailed look at Sonic Origins. If you're wondering about the music to Ice Cap Zone, I'll save you the trouble of reading the rest: it wasn't addressed. But plenty of other features were shown off, including the beginning of story mode. The intro animation for Sonic the Hedgehog was played in its entirety, including a shot of a very excitable Eggman standing on his Eggmobile. The only other piece of new animation shown was the first few seconds of Origins' opening. However, we did get to see thumbnails for all the animation cutscenes in the game, including new animation for Sonic CD. That's right, we're going to get some tarot card action. Will we see anymore in full before release? That's unclear. But with only three weeks to go, we don't have to wait long either way.
Footage from Sonic 1, Sonic CD, and Sonic 2 were showcased (with the expanded 2-player from the mobile version intact), but even the chat for the stream couldn't wait to see Sonic 3 & Knuckles. In both Anniversary and Mirror Mode, the hosts ran through the first act of Angel Island Zone, looking as good as it ever has. For the keen eye (and ear), you may have noticed a couple tiny changes to the opening cutscene, Knuckles no longer just standing still as he watches Sonic recover from having the Chaos Emeralds knocked out of him.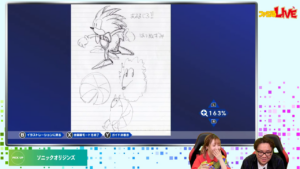 A few other features in the collection were given screen time, including a brief look at Mission Mode, Sound Test, and both art galleries. There's the expected – box art of the games, stand alone images of Sonic and his friends, the welcomed return of the Harmony art that was in Sonic Jam and Sonic the Screensaver. There's the unexpected but welcomed, like cover art for Sonic music CDs of the era (including the infamous album that contains "They Call Me Sonic"). But what's most exciting are the images that haven't been seen before – concept art from across the era. That's right, we get to see Sonic with a bowtie above a rough drawing of an armadillo. An armadillo! They always talk about him, but we never get to see him. Now we do!
The collection is shaping up to be something pretty special, especially if you're a fan of the classic era. Heck, Flickies' Island has been rendered in 3D in the menu. Who ever thought we'd see that again?
Sonic Frontiers
When IGN promised more Sonic Frontiers news this month, they weren't lying.
Wednesday's footage was all about showing off the landscape of Frontiers. Today, the focus was all on combat. Homing attacks turn into punches and kicks as Sonic engages with some interesting looking enemies. Sometimes, Sonic can fly away from the enemy, zigzaging in the air just to go back and kick the enemy until its down. We also get to see Sonic going up against a much larger enemy – perhaps a boss? – having to run up and strike a weak point, glowing red lines emerging with each kick. There's certainly shades of other open world games (and a sprinkling of Shadow of the Colossus), the haunting music floating over as so many questions are still left unanswered.
The Frontiers-fest continues on Tuesday, but it's not clear yet what more will be shown off.
Mega Drive Mini 2
After all this Sonic specific news, it might have been easy to miss that Sega has been teasing something else over the last few days, with cryptic posts on Twitter involving some interestingly decorated cookies. Last night in Japan, Sega of Japan finally revealed their follow-up to the Mega Drive Mini – the Mega Drive Mini 2. Shaped like the Mega Drive Model 2 (or Genesis 2, for those living in America), this time around we're not just getting Genesis titles, but Sega CD ones! Among them? Sonic the Hedgehog CD! So if you miss the way the animated intro looked back in 1993, there's a new way to finally experience the original.
For more details on the mini console, be sure to check out the article over at SEGABits.
There's no time to wait – gotta keep moving forward! pic.twitter.com/0LOIPH3KYy

— Sonic the Hedgehog (@sonic_hedgehog) June 3, 2022