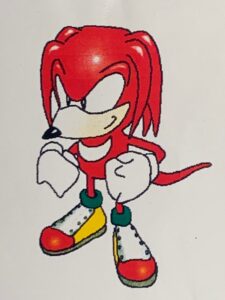 Less than a month before Knuckles' theatrical debut comes an early document from SEGA Technical Institute dated April 12, 1993. The document, which was shared on a private Sonic the Hedgehog collectors group, was meant to introduce the new antagonist to staffers of SEGA's American development team. Given Sonic the Hedgehog 3 released on February 2, 1994, this document was seen nearly a full year before making it one of the earliest glimpses of the character.
The document is chock full of interesting tidbits, including a humorous placeholder for his name which is literally "(Name)". Also, it is stated that Knuckles crates a whirlwind to knock down walls. Of course, in the final game he just sort of walks into walls and "punches" them. But this ability DOES appear in the Sonic 3 Happy Meal which has the Knuckles toy spinning in a dust cloud. Also, Espio does eventually have such abilities.
After the break, read the document for yourself!