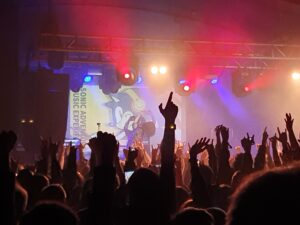 From the moment the Kickstarter was announced, my UK-based Retro compatriates and I knew this was going to be a special occasion. The Sonic Adventure Music Experience was headed to our shores courtesy of Sonic Stadium patriarchs and event organizing extraordinaires, Adam "T-Bird" Tuff and Svend "Dreadknux" Joscelyne. Excitement was instantly at fever-pitch. To top it all off, it was in December, which lined up perfectly with the latest Sonic Retro UK Winter Barcade – the timing was impeccable. So, how was the show and the events surrounding it I hear you eagerly ask? Hit the jump to find out!
The day started like many of the Retro Barcade get-togethers do; frantically ensuring the Switch and appropriate games were up-to-date, packing your bag with your trusty USB power bank and for those of us staying overnight, a change of clothes and the essentials. A train ride into London and a hotel check-in later, Stiv, a couple of his friends and myself were arriving at the meeting spot for the Retro crew, the usual Henry's Bar at Green Park for a couple of drinks and a catch-up of events over the last few months. These included the recent Sonic Month prototype hoard and the discoveries therein, which was extremely refreshing. Long has it been since we've been able to chew the fat over actual new discoveries in the scene and it made for fantastic discussion. Once the starting group was together and all caught-up, we headed over to Forbidden Planet for some retail therapy before moving on to an easy and cheap (by London standards) McDonald's dinner.
More and more people showed up to join the throng at this point, as the group headed over to The Famous Cock pub (hold your laughter, please) for a few pre-gig pints as is the custom, as the queue outside the venue opposite lengthened. It wouldn't be a problem, we said. We'll get in fairly quickly after doors open, we said. We were sadly mistaken as the queue did take a bit of time to get moving, which given the absolutely freezing temperature gave us pause to question our decisions. The standard group joviality paid off here as we were able to pass the time effectively and once things started moving, it didn't feel like all that long before we were shuffling past other Sonic fans to get an exclusive Sonic Adventure Music Experience T-shirt. A price of £20 for an exclusive one-off shirt is certainly not bad and many Retro members walked away proudly with theirs in hand.
It's worth mentioning at this point the venue, The Garage. No stranger to the venue myself, it honestly was an inspired choice, lending a distinctly niche feeling to proceedings which is probably what most people in attendance expected and wanted. Being a regular haunt for concerts in London, it was guaranteed to provide a good atmosphere and excellent sound quality and it certainly delivered on both fronts, a bit loud at times but definitely clear enough. As the stage filled up with bodies, the anticipation kept building until finally the lights began to dim and Svend took the stage to introduce the triple threat of Jun Senoue, Act and Takeshi Taneda, who would then proceed to blow everybody's minds for the next hour and a half.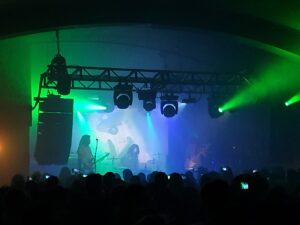 Emerald Coast kicked things off as it is wont to do, before nicely flowing into Prison Lane, starting us off with a one-two punch representing both Adventure games. The set moved along at a steady pace onto Frozen Junkyard from the latest Sonic outing, Team Sonic Racing, which was very warmly welcomed. A few tracks from TSR were wheeled out for the show and despite this ostensibly being a celebration of the Adventure games' music, the crowd didn't seem to mind one bit as Jun's enthusiasm for the new sounds really shone through. At this point Jun took a short break to address everyone in attendance, before breaking into another three songs, this time giving us Choose Your Buddy, Station Square and Seaside Hill/Ocean Palace. So far, so good!
Jun takes another moment to introduce the next tracks and the game they feature on, the previously-mentioned Team Sonic Racing. What came next was Ocean View, the absolutely outstanding remix of Toot Toot Sonic Warrior which of course had the whole crowd singing along, flowing into Wisp Circuit and then Mother's Canyon. It was then that Svend and Adam took to the stage to say a few words before asking if there were any Shadow fans in attendance (there were). Jun donned the Yin to the Yang he had so far been wielding all evening, switching to the Shadow guitar and playing us Sky Rail, Radical Highway, Green Forest and Eggman's Theme from Sonic Adventure. At this point, the trio had completely come out of their shells and were throwing themselves fully into the performance, Act looking like they were born for the stage.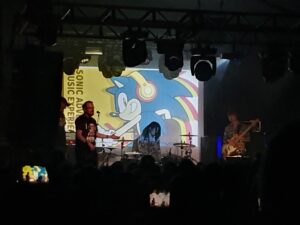 The show slowed down from its so-far relentless pace and Svend and Adam once more came out to interact with the audience for a bit, Svend commenting on the way everybody was 'singing' along with instrumental tracks, causing Jun to cut in with an impromptu Station Square which we all of course sang along with. A joke about Big the Cat then elicited a similar rendition of Lazy Days, which was much appreciated and definitely injected some comic relief into proceedings. The pair then introduced the next two songs as their own personal choices, with Svend's being Pyramid Cave and Adam's being Chaos 6. Rounded off with the fantastic Sky Deck, Speed Highway and Market Street, this was probably my personal favourite stretch of the evening's selection.
For the final segment of the show Jun and Adam introduced a special guest, that being Miles Meakin of the band Midnite City, who would go on to join the band on stage for the next two songs. An absolutely astounding rendition of Eternal Engine (another personal favourite of mine) before the obvious choice of finishing song, Metal Harbor got the crowd absolutely electric. The elated screams rang through the entire venue as the instantly recognizable opening set in and the place lit up. You really could not pick a better song to end it on – or could you? The crowd began to chant "one more song!" and as somebody who cheated by peeking at the set list before the show, I began to wonder what this last song could be, if indeed there would be one. Jun and co. did not disappoint and came back on stage not only to play one more, but to wish Act a happy birthday along with all of us! You could tell that not only this moment, but the entire show, meant a lot to them and it was an extremely personal moment to be able to show our appreciation. With the celebrations out of the way, we reached the end of the night and what better way to send an already happy crowd home than with City Escape, sung by everyone in attendance. Sweaty, tipsy and with distinctly less voice than we went in with, we spilled back out onto the streets of London where some would join for one more drink before heading home, while others would begin a night of drinking that is distinctly harder to recall than the rest of the day's events.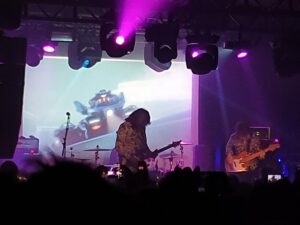 After all was said and done, the Sonic Adventure Music Experience brought it to the UK and brought it hard. The night was spectacular from start to finish and you could tell everybody, both the fans and those involved, had an absolute blast being there. A huge thank you to Adam and Svend once again for putting it together for us, their efforts for this community really cannot be understated – would it be too much to ask for an encore next year?
BONUS STAGE: VIP Meet & Greet (words by sir_mihael)
The VIP meet and greet event was announced before the end of the Kickstarter campaign, and it didn't take long before all the tickets were sold out. This was a very separate event to the main concert, taking place above the venue, but much earlier in the day at 1pm, which gave a lot of breathing room for the event crew to make sure everyone got to meet and greet with the band.
I arrived around 11:30am to find only four or five people waiting outside the venue. Even from a distance, it's never hard to spot a crowd of Sonic fans. There were no real instructions on where and how to wait, but we had somehow figured out the foundations of a queue that continued to to grow as time went on. Although it was close to midday, you could feel the cold wind, and everyone was trying their best to stay warm. Despite the chill, everyone had a good time chatting and showing each other the Sonic games and memorabilia they had brought with them to get signed.
As it got to 1pm, the crowd was greeted by Svend himself, who checked everyone's IDs and pointed us to the main entrance, where there was a bit more waiting. I was glad I arrived early, as the queue was now looping around the side of the building. The doors finally opened, and the first of the patient fans were allowed to go in. The doorman waited anywhere from 30 seconds to a minute before letting the next person go through, to make sure everyone got quality time with Jun and the special guests, and it was clear to see why when we got up there. The VIP room wasn't the biggest, but enough to not be too crowded so long as their wasn't a huge scrum coming in.
Adam was manning the table to the left where everyone received a postcard and a poster that was exclusive for the Sonic Adventure Music Experience. CD's of Jun's The Works and the TSR Soundtrack were also on sale here. The posters given out were nice and laminated, great for Autograph fodder. Adam was doing his best to man the merch table, guide everyone to the Meet and Greet table at the end of the room, and make sure everything was going smoothly.
Despite efforts, it was clear at the start that that the line wasn't moving as quick as planned. A few more enthusiastic Sonic fans were keen to stand there and tell Jun the full list of their favourite songs and soak up as much time with the band as possible. This would be great in a perfect world, but it was clear that things would have to move a bit quicker if the event was going to wrap up before 2020. The nice thing about Jun though was that he was clearly having a good time talking with each and every fan. The way he reacted and lit up when people mentioned certain favourite tracks always made these Meet and Greet events worthwhile, as it always a much more personal experience than some where you're quickly pushed ushered through a handshake session with no time to breathe.
Although most of the focus was on the big man Jun Senoue himself, Act and Taneda-san were also enjoying the atmosphere, getting their first experience with UK Sonic Fans. I felt this was definitely a good way to do it, as it was a very relaxed atmosphere, and without Adam there making sure everyone kept moving it would have been easy to get carried away having fun with the band. That being said, me and my crew were never one to take up these special guests' time, we'd done enough of these spectacles, so we didn't hang around for long. For us it was in, words of thanks, a quick scribble on some merch and a photo, handshakes and we were outta there! Perfect.
With about five hours left to kill, it was off to check into the hotel, get some food and meet up with the rest of Sonic Retro for some essential pre-gig pints!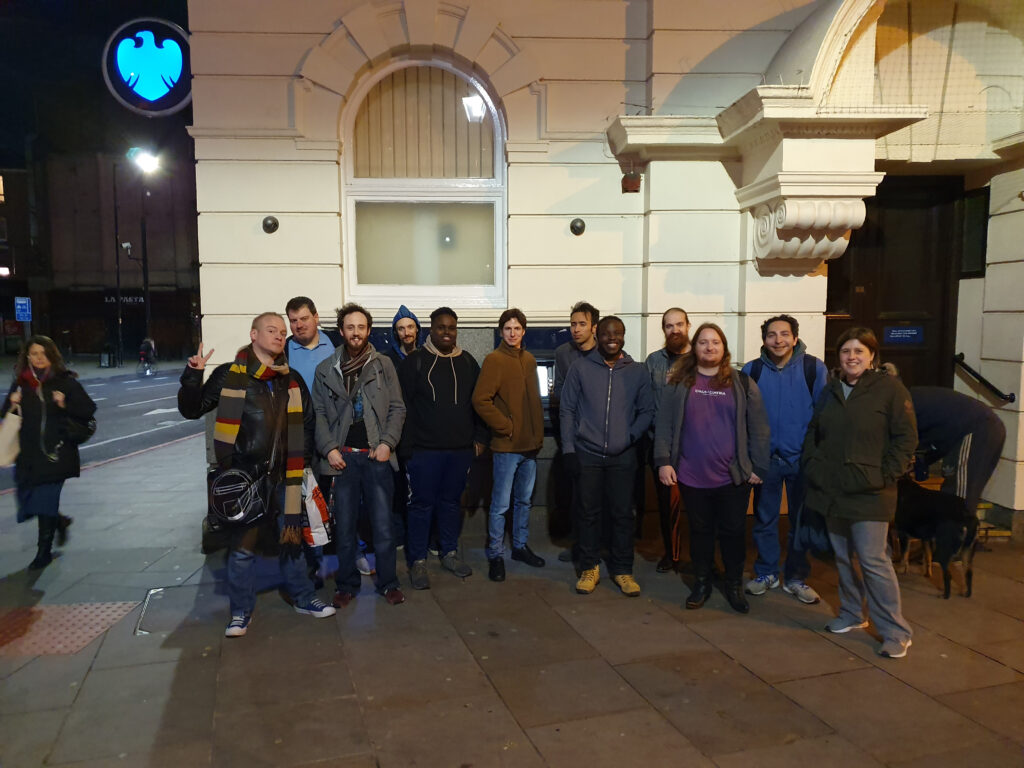 The Sonic Retro UK Winter Barcade by way of Sonic Adventure Music Experience!
(Photos courtesy of Orengefox)