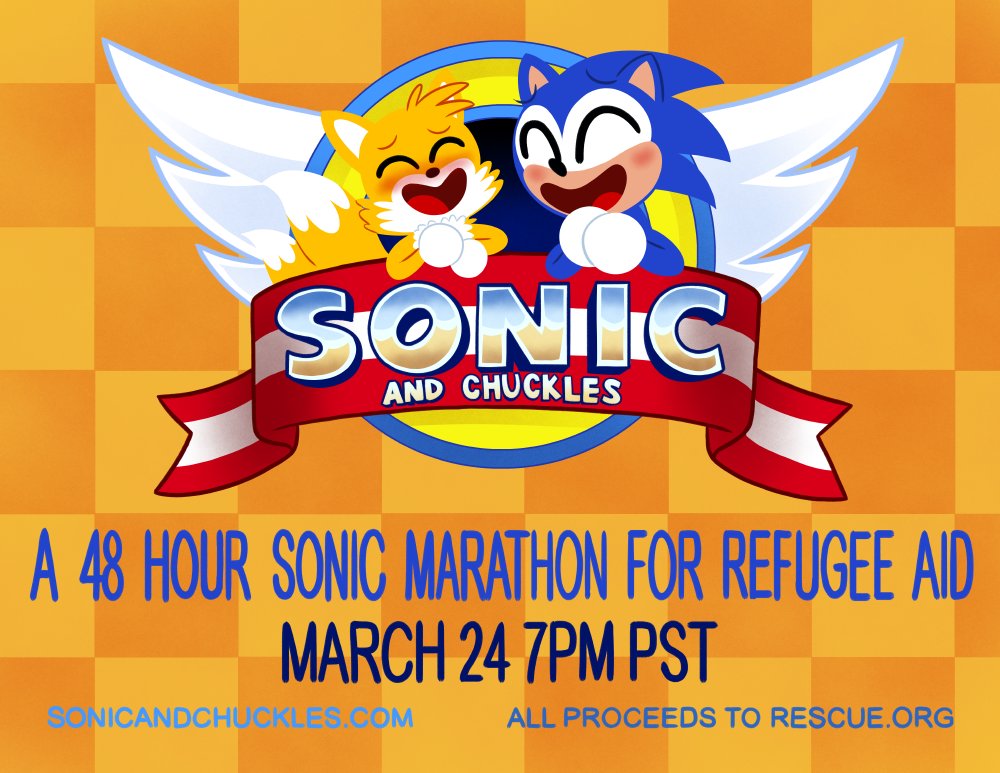 What happens when artists and animators band together to run a Sonic-themed charity event? You get Sonic & Chuckles, a 48 hour livestreaming event starting at 7PM PST today! Sonic & Chuckles is benefiting the Refugee Aid run by both Geneva Hodgson (Storyboard artist and writer for OK KO, Teen Titans, co-creator of the new horror game Tattletail) and Frank Gibson. (The Amazing World of Gumball comic series, Capture Creatures comic series, writer for season 1 of Bee & Puppycat) They're bringing together their love of Sonic to promote a good cause.
You can check out more information on the event by hitting the jump or head straight to their website at www.sonicandchuckles.com and follow the event on Twitter.

"We've both been huge Sonic fans since we were kids," said Frank. "both of us were big readers of the Archie series and lovers of SatAM, but we really, really love the games. I mean, I bugged my parents to buy a VHS tape of a Sonic 2 demo because I was so obsessed."
The International Rescue Committee is known for refugee aid which provides humanitarian aid in war zones. This event marks the first of what they hope to be of many promotional livestream events. "Privately I've been raising money for a variety of causes this year, such as the ACLU and Planned Parenthood." said Frank. "This is the first public facing fundraiser that we're a part of and we're hoping to do more stuff like this! The International Rescue Committee are currently working in war zones and providing amazing humanitarian aid, they're a fantastic organization and we hope to bring in some money and a little more awareness."
They provided an list of Sonic fans and Sonic-related guests, (with some surprise unlisted guests!) who will drop in throughout the event. You can expect plenty of mainstay Sonic titles being played including Sonic 1, Sonic 2, Sonic 3 & Knuckles, Sonic CD, Sonic Adventure DX, Shadow the Hedgehog and even some infamous titles such as Sonic Dreams Collection.
Will Wiesenfeld, Musician (BATHs/Geotic)
Ben Esposito, Game Developer (TattleTail/Sonic Dreams Collection)
Tyler Hutchison, Cartoonist & Game Developer (Die Homer)
Ryann Shannon, Cartoonist & Story Board Artist (DreamWorks' Home, OK KO)
Olly Moss, Poster Artist & Game Developer (Co-Creator & Art Director of FireWatch)
Tyson Hesse, Cartoonist & Animator (Diesel & Archie Sonic Comics)
Dave Alegre, Cartoonist & Story Board Artist (DreamWorks' Home, OK KO)
David Smith, Cartoonist & Story Board Artist (DreamWorks' Home, OK KO, Adventure Time, Flapjack)
Lamar Abrams, Cartoonist & Story Board Artist (REMAKE, Steven Universe)