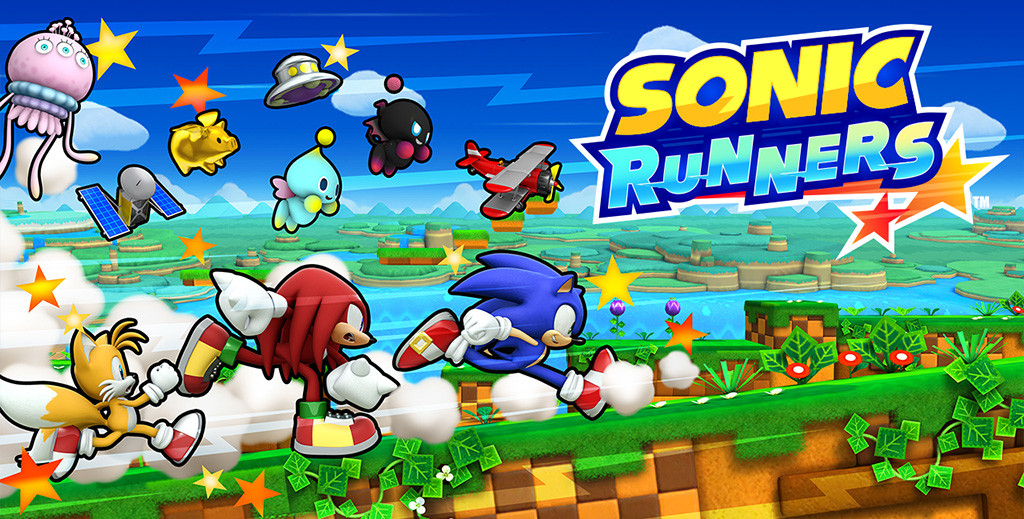 Originally, I was just going to throw up a clip of The Critics' Jay Sherman just saying his trademark line of "It stinks!" but that would be simply broadside-ing with an elephant gun what at its core is a good game wrapped up in layers of garbage, like one of those Babushka figurines.
So, let's talk Sonic Runners. Even though Sonic Dash is still very much a thing and is celebrating 100 million downloads by shoe-horning in a brand it has no business even associating with in Angry Birds, Sonic Team decided it wanted to take a stab at this crazy bizarre world known as mobile freemium development.
Enter Runners. Simple enough premise: Sonic and friends run to the right and collect gems and rings through an obstacle gauntlet of spikes, enemies, dash rings, pits, loops–you name it. At the end of each segment, Sonic encounters Eggman hauling a stash of goodies and is tasked with smacking that old greedy capitalist of all his money for your own purposes. Then the level speeds up and repeats with a more difficult layout. Rinse and repeat two more times to max speed until you eventually die.
Throughout this, you're treated to very simple stories of Team Sonic helping out Animal friends, lost Chao, and even scared groups of Wisps in their battle to stop Dr. Eggman from whatever anti-environmental/furry critter plot he's hatching for that chapter. It may sound like I'm complaining or ready to just eviscerate the game, but this isn't the case.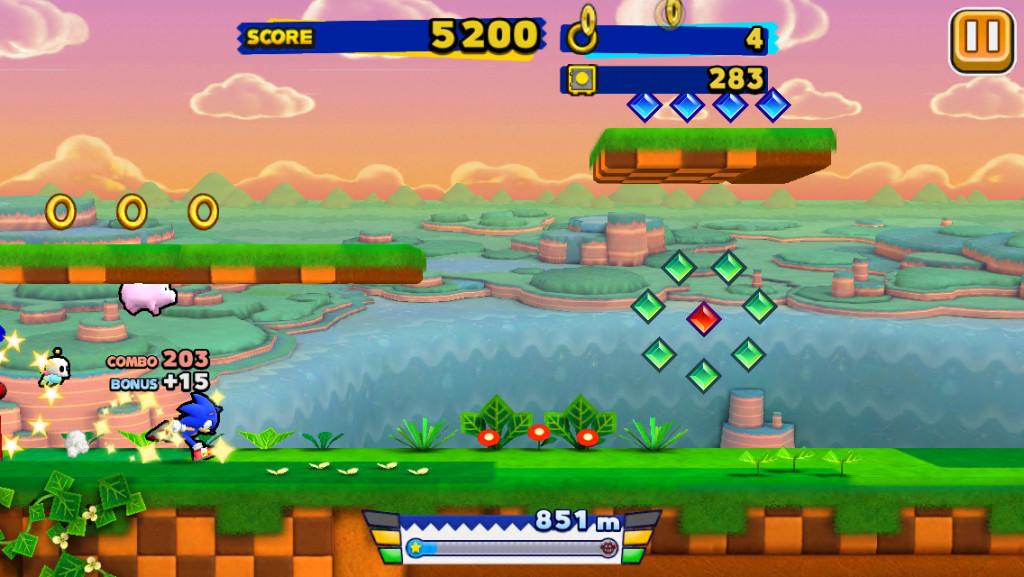 I really like all of this. The game here is elegant in its simplicity and it's pretty amusing, especially in little short bursts during the work commute, while waiting for someone, or if you just have nothing better to do and want to kill a little time. The gameplay is sound and the story goes back to simple roots seen in the Genesis titles (Eggman's doing something bad with the environment, go kick his ass.)
Really, at its core, Sonic Runners is actually an example on how to properly adapt a classic franchise into the mobile space. It certainly worked out for Rayman: Jungle Run, except Ubisoft decided to charge $2.99 for that game. I even like the simple design of the characters and art style. This is basically what SEGA and Sonic Team should have been aiming for when making Sonic The Hedgehog 4: Episode 1. This is basically *it.*
But in true Sonic Team fashion, you know that the team in charge of the team that made this game has to find a way to absolutely spoil the soup; And they do so in spectacular fashion.
It's clear that Sonic Runners is a game made to be a mobile "freemium" title developed and operated by a publisher that have never made such a game before. The game is loaded to the brim with almost every pay gimmick imaginable: pay for red rings, limited lives, THREE separate roulette wheels for unlockables using an in-game currency that doesn't come in ample supply but you can totally spend real money to earn gobs of. As I write this, the game has a Classic Sonic playable character players are able to unlock, but only on the six percent chance that the roulette wheel (worth 50 red rings or 10 boss kills to spin once) lands on it.


The game is also poorly optimized, something which players who have been catching on through the .apk leaks have said is newer. I played the game on both my Nexus 5 and Nexus 7 2013 with all non-essential background processes turned off and there were many times the framerate would chug which resulted in the game not reading an input tap and sending me to my death. The game would then say, "Hey, you got no more retries. Either buy more or go away."
Considering the game only grants you three rechargeable lives and each life takes 30 minutes to recharge, this makes participating in events or even progression through the game a bit of a chore, especially in later stages where you need lots of points to progress the mini-stories. Each level attempt is worth one "retry", so you only get three shots at a level unless you purchase more (fortunately, with rings.)
The game, like any other free-to-play title, is also chock full of advertisements. These video ads can be viewed for a free life, which isn't unreasonable all things considered. It only gets jarring when they pop up in between levels, or when you quit the game and they throw up an ad. Some of these run for 10 seconds, others can be skipped after five seconds. I ran into some that run for a full 30-45 and did not offer the opportunity to skip or close the ad. These are rare, but the fact they're allowed through is awful. Having them go up between levels is also a strange choice. It's like playing Sonic Adventure and having an ad show up for Hydro Thunder after clearing Emerald Coast.
But the biggest complaint I have on the game is easily required online. Why developers force this as an attempt to prevent cheating is beyond me, as it just extremely limits when the game can be played. I'm not blessed with a great data plan, and playing during the commute is basically impossible without risking overage charges or losing signal if I'm taking the subway. Others will come sympathize with this too, and there may be people with slow or wonky internet connections for whatever reason. While this solution may work for the tightly packed metropolitan areas in Japan, it's pointless through out the rest of the world.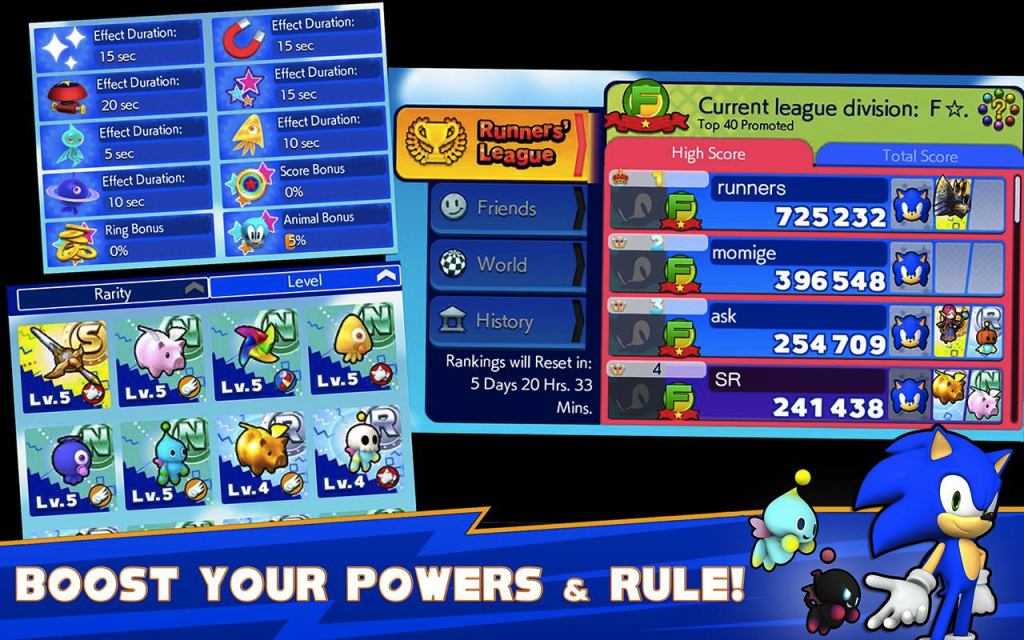 It also does not help that the game dangles Amy Rose as a playable character over your head like holding a strip of bacon over a dog, but only if you spam your Facebook friends with invites to play the game and then 10 of those sign up. Why even resort to this kind of tactic unless you're that deathly afraid your game will fail, especially when it's associated to one of the few platformer brands to survive the '90s and still have some sort of recognition?
New players, now that the launch is officially global, are also forced to compete against players that have been playing the game for months and have much better gear. This isn't a huge complaint, but it's more that there have already been several events to unlock other playable characters or earn more in-game items. It's likely they will return later in the year, but new players are left out in the cold. These characters come with their own bonuses that make them more ideal to play if you want to get higher scores (required to increase your ranking for better prizes.)
The game would be INSTANTLY improved just by removing forced online and removing the life limit. As it stands now, Runners is a good core game buried under so much garbage that it chokes the experience.  You're almost better off spending the $2.99 for Rayman Jungle Run and its sequel since it does what Runners here tries to do without any of the stupid overhead. You can even play it without being connected to the Internet! What a concept!
I don't know why I'm so disappointed with the game. It could just be frustration of the usual Sonic Team mantra of "one step forward, three steps back" that makes being a fan of the series really frustrating, especially considering this is the "big" Sonic game of the year. If you can get through the layers of garbage Sonic Team piled on the game, you may find yourself hanging around, but it becomes an exercise of patience as, unlike Sonic Dash, spending real money does not make the advertisements go away.
So, until SEGA and Sonic Team can get their head straight, limit down the amount of "freemium" gimmicks, optimize the game so it doesn't chug, and focus on the strong gameplay they have, I can't give it anymore than a resounding Jay Sherman…

<