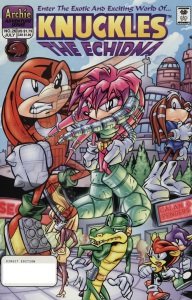 Long before Sonic the Hedgehog was their mascot, SEGA was known the world over for their fantastic arcade outings. Space Harrier. Hang On. Out Run. Each game compelled whatever young mind was near to slide quarter after quarter into the cabinet, keeping the company relevant even while their home content, featured on the Sega Master System, was overtly eclipsed by the competition. Finally finding success in the console market in 1991 didn't slow the videogame maker from producing titles for the arcade circuit, but it did raise the question of whether or not SEGA would deliver Sonic outside of the Mega Drive, making those crazy about The Most Famous Hedgehog In The World to venture outside the home and hunch over a static arcade cabinet.
Wanting to exploit the character that was to define them, SEGA was immediately aware of the demand. In 1991, they released a pair of early games exclusive to arcades, Waku Waku Sonic Patrol Car and its spiritual successor, SegaSonic Cosmo Fighter Galaxy Patrol, two early attempts that were geared directly at a younger demographic. The first two 16-bit titles would also be retooled for arcade consumption, released on the Mega Play platform where players were given the same levels as the home version but with far shorter time limits.
It wasn't until 1993 that the first dedicated arcade experience featuring the hedgehog was released, the aptly titled SegaSonic the Hedgehog. One look at the title screen made it clear it wasn't just a rehash of home content, featuring two brand new characters joining Sonic in an isometric world where players had to use a trackball to get Sonic and his friends out of the never-ending trouble following them. Released at the height of Sonic's popularity, the game was virtually ignored, in part because it was almost exclusively a Japanese title. Those few that were exported to the west came with Japanese vocals and text intact, and as such was overlooked by the writers of both Sonic comic books being published at the time.
In 1999, that all changed.