It's pre-E3 week, meaning that publishers who aren't sure if their game will get noticed during E3 are revealing their games early. And SEGA is doing this with its two Sonic Boom games, which have suddenly gotten a bit of a name change.

First up is Sonic Boom: Rise of Lyric for Wii U developed by Big Red Button Entertainment. The video above shows gameplay of normal Adventure-style levels, one speedier stage and boss battles. The normal levels are slower-paced than your usual Sonic game, seemingly playing more like a PS2-era platformer with beat-em-up sections and character switching. There's also the new Enerbeam which can be used to find alternate paths, grab and throw enemies, and zip-line across gaps. The speedier levels look a bit more like something you'd play in Sonic Unleashed or Generations, though a bit more automated. The boss battles have all four characters (Sonic, Tails, Knuckles and Amy) battling either Eggman or a robot. Like the name suggests, the primary villain isn't Eggman but rather a cyborg reptilian named Lyric.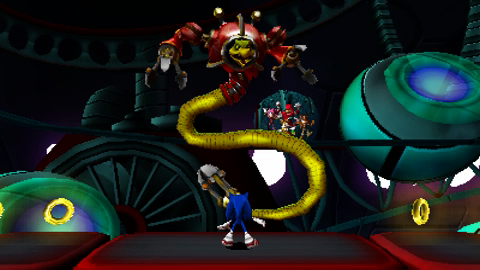 Then there's Sonic Boom: Shattered Crystal for 3DS developed by Sanzaru Games. Unlike the Wii U game this is a 2D Metroidvania with levels which focus on exploration along with some 3D levels where you use the quickstep and swing around with the new Enerbeam. You'll be able to switch between Sonic, Tails, Knuckles and the recently introduced Sticks, all of whom have unique abilities. Amy couldn't make it on account of being kidnapped by Lyric. There used to be a video preview with gameplay footage from GameXplain, but apparently SEGA wasn't so keen on gameplay being out there already. You can still find it along with a bit more Rise of Lyric gameplay footage if you look in the right places though. (*coughforumscough*)
Beyond the jump you can also find screenshots and concept art of both games along with a list of previews from other sites.
Previews
Destructoid – Sonic Boom plays pretty much exactly as I expected
Gamespot – How Do The Two New Sonic Booms Compare?
Game Informer – The Different Faces Of Sonic Boom
Kotaku – The Explanation Behind Sonic's New Look
Gamesradar – Rise of Lyric on Wii U might be too simplistic for the average Sonic fan
Gamesradar – Shattered Crystal on 3DS is a throwback to classic 2D Sonic
Siliconera – Eggman Defeated By Sonic's Electric Lasso
VentureBeat – Don't call it a reboot: Sonic Boom is just a 'different branch' of the Sonic universe
Polygon – Sonic Boom shows an appreciation of platforming
Rise of Lyric Screenshots
Shattered Crystal Screenshots
Concept Art


[Source: SEGA Blog]