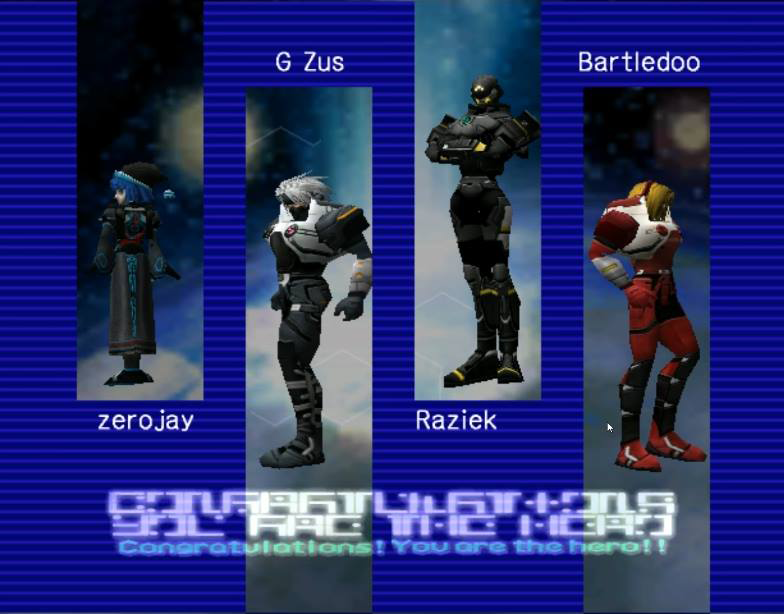 Oh dear, I got stuck with the Monday Links this week. You know that new Sonic game that everyone is talking about? Yes. No? Well, theres still not much to talk about, or Sonic Boom, or much of anything Sonic lately, and you probably don't want to talk about sports either. In fact I've been busy messing around Phantasy Star Online despite being over 14 years too late, and I haven't moved on to Phantasy Star Online 2. Why? It was something I had missed out on when it came out for the Drreamcast and Gamecube. Since I had broadband adapters for each, and my curiosity in private servers piqued, I wanted to take a look to see what I had missed.
The game's aesthetics and gameplay structure were the main reason for me wanting to look back at this outdated RPG, because it used a theme thoat most RPGs have not tried to work with, and most would follow the large, open world that World of Warcraft popularized. In fact several of them had an identity crisis to the point that you'd think the developers just wanted to get away with making World of Warcraft. But not Phantasy Star Online, a game that took Sega's established RPG series and not only gave it a multiplayer component but emphasized real-time action where you are actively engaged in battle, and avoiding damage and looking for enemy weakpoints requires creative strategy. This is probably the best non-Sonic game from Sonic Team, at least in my eyes. You're still not going to be won over by the story, and it is absolutely difficult for newcomers to find others to play with online, but it certainly reached a technical marvel and helped kickstart a genre to what was popularized by its successors. Theres also fun to be had by playing the game Single Player, but the social element definitely makes up half the game through social interaction, item trading, and planning with your teammates on what to do.
My only handicap that I am personally following is to play this game as blind as possible. I'm not going to bother with item duping, I know Force classes are utterly broken, and I don't want to consult a wiki to generate the best possible outcome for my character(s). I want to try to match my experience with the game similar to how others played the game back when it came out. Its incredible how the evolution of game design and social interaction has changed the way we play the game, and for a game like Phantasy Star Online, the experience does not match with a modern massive multiplayer environment. But to get the most out of the game, its best to look at why the game had it's strengths in the first place. Its not entirely possible, and I do want to try and avoid the technical hurdles the game has, because there's nothing quite like it out there. I want to see about doing an annual check in with the game as well as have more video podcasts with people who played the game before sharing their experiences. Because honestly? I truly regret letting it pass by me, even with the paid subscription fees involved.
Now, lets take a look at the headlines for Monday.
Retro/Bits News
Sonic/SEGA Stuff
Other Stuff
Game Music composer Alexander Brandon, along with our good buddy Shadix and other video game composers have a kickstarter for a massive collaborative soundtrack. [Just Fun]
Archie Mega Man is now doing a crossover with the Classic and X series. [Worlds Collide Harder?]
Video of the Week