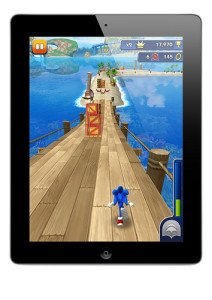 Even though the leaves are beginning to turn in some places, iOS owners can still enjoy kicking up sand and splashing in Sonic's archnemesis of H20. SEGA has decided to send Sonic to warmer climates, revealing a beach locale as stage 2 for the so-far-iOS-only Sonic Dash.
Taking place on Sonic Heroes' often-referenced Seaside Hill, Sonic and his intrepid motley crew of friends will do what they do best in Dash: run forward collecting rings while avoiding a miserable death. Only this time, killer whale's will jump over the sandbars as a grim reminder of Sonic and friends' inevitable fate. It's also possible to venture underwater through a series of glass tubes, as originally seen in Sonic and Sega All-Stars Racing.
SEGA further confirmed a new global challenge will be touching down soon. The last global challenge was successfully met, unlocking Shadow as a playable character.
Well, what are you doing sitting here still? Go play on the beach! You're all green and sickly looking.