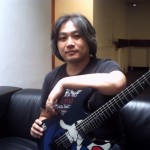 Over the past 21 years, during good times and bad, one of the most consistently well-regarded aspects of the Sonic the Hedgehog series has been its sound design. While a multitude of composers and performers are responsible for this, the man who holds the most influence in the modern era is Jun Senoue, who in recent times has acted as sound director for Sonic Generations and composed the Sonic 4 music.
He's a man who likes to keep himself busy – if a quick peek at his production history on Sega Retro doesn't show you that, then consider that at Summer of Sonic he didn't appear to have a moment of rest between backstage interviews, two signing sessions, Jam with Jun and the Crush 40 set! Thankfully, before the day took its toll I was able to sit down with him to chat about his start in the business, Sonic Generations and the process of making Sonic music in general. Take a look:
Retro: How did you get into writing music, and specifically how did you get into writing music for video games?
Senoue: Actually I was a big fan of Namco stuff, arcade stuff like Mappy from the mid-80s. After that I was a little bit away from video games. In the early 90s I was surprised by Sonic the Hedgehog for the Genesis, the Mega Drive. I joined Sega back in 1993. I just submitted my stuff to Sega and they accepted. I was totally surprised, those were my favourite games! It was a great opportunity to join Sega and luckily I had a chance to be part of Sonic 3's music in the first year of my Sega life.
Retro: Were there any musicians that inspired you as you grew up?
Senoue: I was a big fan of a UK pop band called Duran Duran, and that was the reason I got a bass when I was 14. The bass player for them looked much cooler than the guitar player! Also I played the keyboard for a long time, but I found that the keyboard player and the drummer stayed at the back side of the stage. The people at the front of the stage were much more active and I just wanted to be a part of that. So I purchased a bass, because of John Taylor from Duran Duran. But after that I found that some guitar players had nice guitar solos in the middle of the songs, and I thought "Oh, that's what I want to do!" so I switched from bass to guitar when I was 15, 16? So yes, Duran Duran was one of my favourite bands when I was young and also lots of hard rock and hair metal bands.
Hit "Read more" to learn which game spent a year in production without any sound direction and find out Jun's favourite Sonic songs!