Just as we thought we wouldn't see any more Sonic the Hedgehog 4: Episode 2 info or media for a while, the achievements for the game suddenly pop out of nowhere. Around the same time Sega of Europe has uploaded seven more screenshots on their official website, showing a returning object from the more recent titles in the Sonic franchise: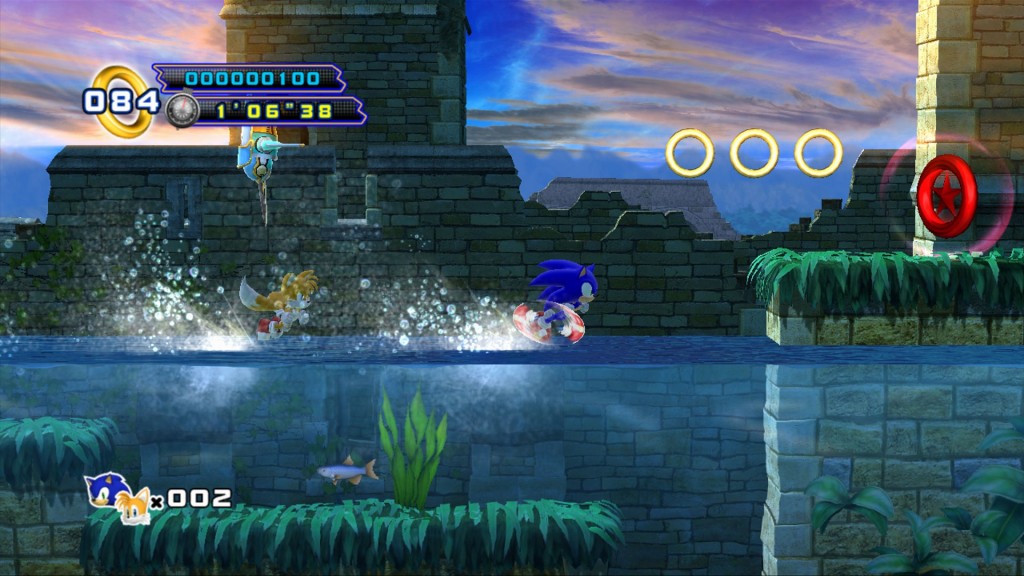 As you can see, the Red Star Rings from Sonic Colours and Sonic Generations are back. In previous games they unlocked Game Land stages or extras and skills respectively, so the question is what they unlock this time around. Go after the jump to see the rest of the screenshots and the achievements, beware that these do have some pretty big spoilers.
The Adventure Begins – 5G
Clear SYLVANIA CASTLE ZONE, Act 1.

Rolling Combo! – 5G
Activate the Rolling Combo with Sonic and Tails.

Metal Sonic Falls – 5G
Defeat Metal Sonic in SKY FORTRESS ZONE, Act 1.

A Golden Wave – 10G
Defeat all bosses as Super Sonic.

All Stages Cleared! – 10G
Defeat the final foe and watch the ending.

Tag Partner – 10G
Upload a Multiplayer score or time.

I Love Tails – 10G
Play as Tails 50 times.

Ring Collector – 15G
Beat Special Stage 1 after collecting every Ring.

Endurance Race – 25G
Clear all stages without returning to the World Map.

All Chaos Emeralds Found! – 30G
Collect all seven Chaos Emeralds.

Proof of Speed – 35G
Clear SYLVANIA CASTLE ZONE, Act 1 in one minute or less.

All Red Star Rings Found! – 40G
Defeat the final foe after collecting every Red Star Ring.
I warned you about the spoilers. We now know you fight Metal Sonic in the very first act of Sky Fortress Zone, which hasn't been revealed yet, and for the very first time you can use Super Sonic against all bosses in the game. Besides that the world map from Episode 1 returns and the co-op spin attack seen in the trailer is called a Rolling Combo.
[Via Xbox 360 Achievements]