UPDATE: The release date was spotted on Xbox Live as well shortly before it was removed along with the screenshots (which were re-uploaded later on). If the date is correct, we should be seeing this game as early as May 16th.
While it's entirely possible we weren't supposed to see these just yet, we were warned by Ken Balough we'd see some interesting things in the next couple of weeks regarding the one Sonic title we definitely know is coming: Sonic the Hedgehog 4: Episode 2. And with no fanfare whatsoever, we can now see, at the very least the visual style they are going for in the next chapter of the "Sonic 4 saga."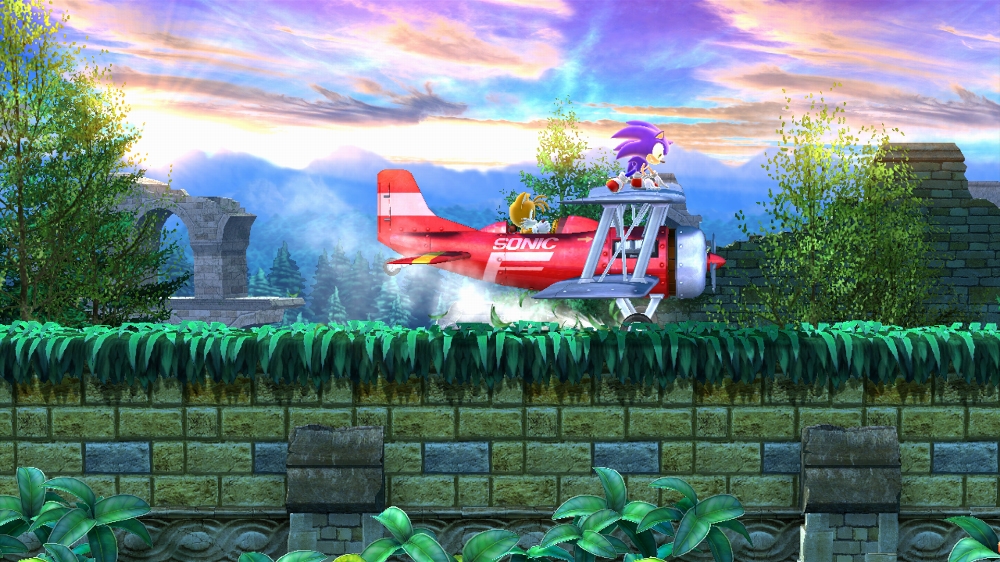 Oh man, they even pulled the original Tornado out of storage for this one. Remember, the reason it says Sonic on the side is because it was Sonic's plane in the first place.

Even though it wasn't that hard to guess from what concept art we had, those of you who guessed that the first level in the game might have some resemblence to Aquatic Ruin Zone from Sonic the Hedgehog 2 can pat yourself on the back, since it looks like we're definitely in a ruin underwater from those first few screenshots. Mixed in with a bit of Marble Garden imagery (oh hey, that strange head guy who loves to throw arrows is back), it doesn't seem to be as much lifted straight from Sonic 2 but an amalgamation of the two, so it actually looks…almost new! Definitely a step in the right direction.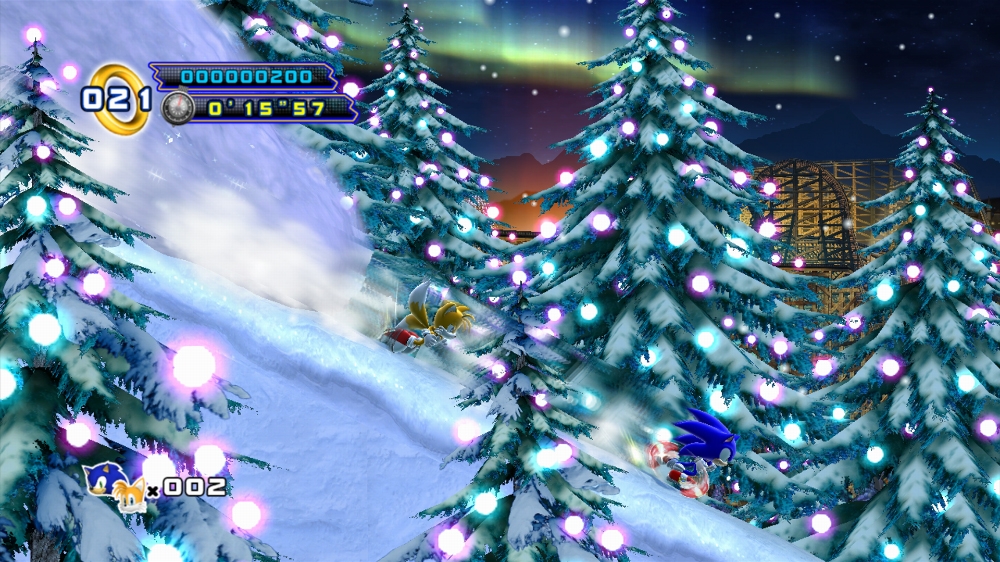 But hey, we get more than just the first level. We get to see hints of the other three that are meant to be coming out way (yes, once again we're getting a four level jaunt). Also coming our way is another strange amalgamation of winter fun and carnival excitement. What is nice is that the winter area isn't exactly Ice Cap, but something reminiscent of a stray idea mentioned a long while ago…sure, might be coincidence we're getting Christmas Trees, but hey. And you can't go wrong with Metal Sonic apparently hijacking one of Miles "Tails" Prower's inventions.
We also get to see a quick look at yet another industrial zone pluked straight from the Texas oil fields, and also the return of the Sonic 2 Special Stages. Sonic Team, if you can make them just as extreme as the remake you did for the Saturn version of Sonic 3D: Flickies Island, we're in business.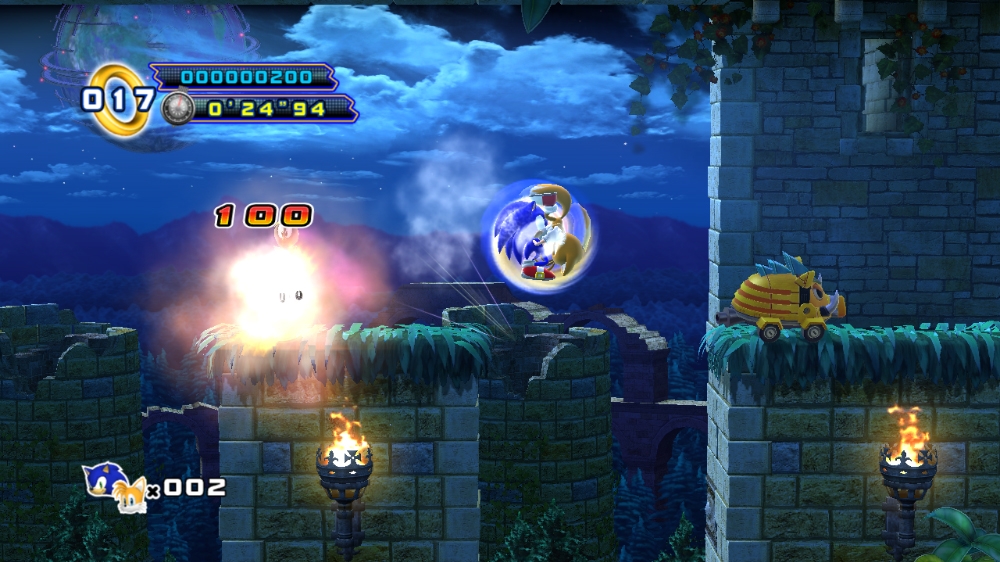 Also, for those who thought the twirling of blue and yellow in the teaser trailer meant something, looks like Sonic and "Tails" are getting all sorts of moves. Yes, "Tails" will be able to airlift Sonic. But they'll also be doing some crazy spin move that'll…um…well, who knows what it does. And…wait a minute, is that the Little Planet in the background? With something being built around it?! Death Egg Mark II Mark III Mark-Something, anyone?
Included with the screenshots is the official description to the game, which you can take a gander at below:
The Sonic 4 Saga continues as Sonic reunites with Tails for all new collaborative play! Following the events of Episode I, Metal Sonic has returned to form a formidable alliance with Dr. Eggman! To face this new threat, Sonic will have to call upon an old friend to help him save the day! Joined by Tails, utilise ingenious combination moves and race across four brand new Zones, in order to put an end to their evil plans! Play alone, or with a friend locally (and online), in an evolution of Sonic 2's collaborative gameplay! Unleash Sonic and Tails' devastating joint attacks and combination moves to fight the united force of Metal Sonic and Dr. Eggman. Episode II features an all new game engine, bringing you updated physics and an original graphical style as you race through four unique Zones and a new Special Stage.

FEATURES
Offline co-op 1 – 2
Dolby Digital

ONLINE FEATURES
Online co-op 2
Leaderboards
Ladies and Gentlemen, you better prepare yourself for the return of the 2-Player mode. But until then, check out the entire gallery below, along with the cover art to the episode.
…and hey, is it me or does the first level kinda remind you of a certain fangame everyone loves?
[Source: Xbox Live Marketplace]