Eighteen years ago, Sonic the Hedgehog 3 was released to the masses. No one bothered to ask Sonic if he saw his shadow (and if he did, if it was just a generic circle or in his actual silhouette), but because of how important that release was all those many years ago, Sega has been using the date to psyche up whatever hedgehog-related items they've been working on. Last year, they teased the 20th Anniversary. The year before was right around the time Sonic 4: Episode 1 was announced. This year, we have not one but three Sonic-related prizes on the ol' Sega blog. Yes, it wasn't too hard to guess something Sonic 4 related was going to be there, but the other two may come as a bit of a surprise, as some people questioned if they were ever going to happen again. Yes, Sega has confirmed that the fan-favorite-fan-gatherings Sonic Boom and Summer of Sonic are indeed returning for 2012.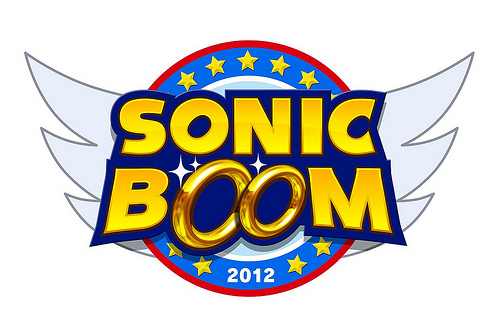 For us Americans, Sonic Boom 2012 is happening on July 13th at the House of Blues in beautiful San Diego, California. Timed smack-dab in the middle of the San Diego Comic-Con, they've also made it very clear that you don't need to go to the comic convention to attend Sonic Boom. If you're frightened of comic books, have no fear.
In a reversal of last year, the Brits will be the first to get together and discuss their best times in Sonic Drift 2, as Summer of Sonic will be taking place on July 7th. Where? Some venue in the London area. Where specifically in London? I have no clue. Hopefully Sega will say the exact location before the 7th, or else you'll be wandering the streets of London, entering pub after pub searching for people dressed in hedgehog attire.
Finally, since it is only a day before their usual concept art extravaganza, we get another round of Episode 2 based images. So what do we get? Some scenery? A random badnik? Oh no, my friends. We get our first glimpse at one of the bosses in the game: Egg Serpentleaf.
That is certainly something. And a bit frightening. Though I'm sure it won't be long before people compare it to some other boss that has existed in the Sonic franchise.
So yes, that's your Hedgehog Day update of 2012. Now you should go outside…wait, no. You should stay inside, put on that Sonic 3 & Knuckles cart hiding out in your closet, and play through Hydrocity Zone. Like any respectable human being would on a day like today!
[Source: Sega.com Blog]