When news originally broke about the forthcoming release of the Sonic Generations Collector's Edition, I must admit I was a bit jealous. Seeing as I lived in America, it would require money I couldn't justify, importing a game that I had no idea would even work on my region's hardware. So I sat and waited, to see just what the contents were. Yes, we all knew what they were supposed to be, but no one knew what songs were to be on the music CD, what the art book contained, or how nice the statues would stand. For me personally, however, it was the documentary that intrigued me the most. A history of Sonic the Hedgehog put together by Sega themselves? They hadn't done anything like that in years, and definitely never in English. As should be evident by the title, I'm not going to review the entire collector's edition for one simple reason: I don't have it. There are plenty of other people who have shown it off and gushed over the limited-edition ring (which I must admit is pretty nice), but because of the wonders of the Internet, anyone can watch the Sega of America-produced documentary. Now with six extra minutes straight from the horses mouth. So the question must be asked…is it any good? Going in, I should have known not to get my hopes up too high. Starting with footage that is obviously trying to tie itself into the advertising campaign of Generations, clips of the original Sonic the Hedgehog play while a sped-up version of Metal Harbor's "That's the Way I Like It" accompany, awkwardly trying to match up until Modern Sonic crashes through the television airing the footage, letting us see the title of the documentary for the first time. Sonic: The Birth of an Icon is a forty-two minute retrospective on the entire history of Sonic's gaming career, and as you could probably guess, that is nowhere near enough time to cover everything they should. For those keeping score at home, there have only been a handful of professional video retrospectives involving Sonic the Hedgehog that have been made over the years. The very first was actually done back in 1992, released on VHS as a preorder bonus to Sonic the Hedgehog 2, featuring Yuji Naka's disembodied head over footage of the Metropolis Zone. A shorter, yet better, feature was included with Sonic the Hedgehog 3, this time featuring an interview with Ohshima and concept art galore. Both of these, however, were only released in Japan, even though I'm fairly sure us crazy westerners would have enjoyed them as well. This Japanese exclusive treatment would continue with the Sonic Adventure Announcement video, which not only gave a retrospective on the first public unveiling of Sonic Adventure in Tokyo, but also a mini-documentary of Sonic Team's journey to South America to research the game. The first English documentary wouldn't come out until G4's Icon series aired an episode about Naka (which, aside from some Ferrari footage, wasn't that exciting), and of course there is the nice-yet-short documentary from GameTap. While that last one did show off a lot of content that wasn't well known at that point and even acknowledged all of the original team, it was just made to help advertise a video game service, so it wasn't going to be full length.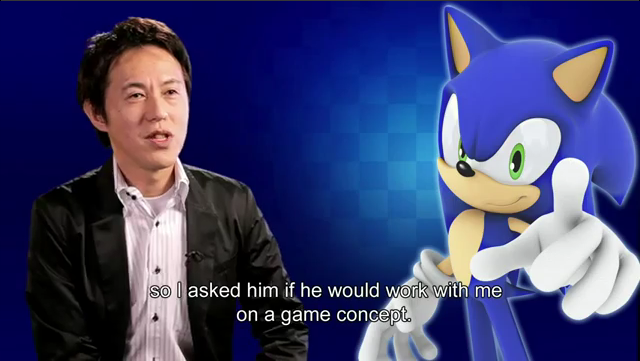 So being from Sega, you would think that Birth of an Icon would blow the rest out of the water. That they'd take the most interesting bits from the three they made before, combine it with new footage and never-before-heard anecdotes from the Sega vaults and wrap it up in an amazing package. Then you realize that it came from Sega, and that getting your hopes that high never works out. Now, I'm not going to go through it minute by minute. That would be silly, especially since you can watch it above. But the documentary falters at so many points that, at the end of the day, it feels way more like a glorified advertisement for Generations than it does a legitimate retrospective. Heck, even the GameTap production was able to avoid that! Sega, there is no need to try and sell us Generations. Especially since you can only own this documentary if you live in Europe and bought the game. Now, the documentary starts where most should, with the retelling of how Sega wanted to establish themselves as a true competitor to Nintendo and take the gaming throne. There are interviews of course, and for the most part they're good. There isn't much new in them, but it is nice to see Ohshima actually talk about the original pitch meeting they had for the concept of Sonic the Hedgehog. Naka even gets to talk a bit about programming the game, since that is what he did. Maybe he didn't retell the anecdote about feeling sick the first time he played the game, but it is nice to see one of the men responsible for the franchise mention how the team was worried about making the game too fast. But then we start slipping into the interviews by the staff of Sega of America, and that is where the issues really start to begin.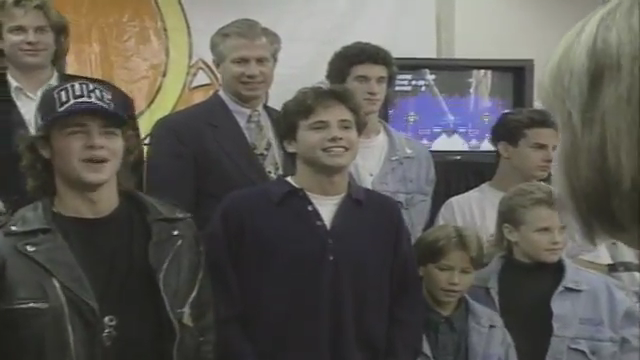 I'm not about to get into a tirade about the changes Sega of America did to the Sonic franchise. My personal issues with what SOA did is not the point of this, and any good retelling of Sonic's history would get into that. There is a fair amount of time spent on the western side of things, which is put together alright. My problem, though, is how they continue to gloss over the less-than-flattering moments. We get to see them talk about Sonic's showing at the Consumer Electronics Show in 1991, but they make no mention about how originally SOA had no faith in the character. They talk about that glorious plan to have Sonic shipped with each Genesis unit, yet ignore how they originally wanted to replace Sonic with another character designed by a still-unnamed American artist. And of course, they completely step around how Sonic 2 had Yasuhara and Naka move to San Francisco not because Sega of Japan thought it would be a good idea for them to work there as Sonic was huge in America, but because Naka quit and was convinced by Mark Cerny to work at the Sega Technical Institute instead. These stories are part of the history, even if they can make Sega look bad. If it wasn't for these moments, the final products could have been something completely different. If anything, they just help to show that Sega was made up of real people who do have faults, and dealt with them to produce some of the greatest games of the 16-bit generation. These men and women were not gods, no matter how much the games may have shaped millions of childhoods.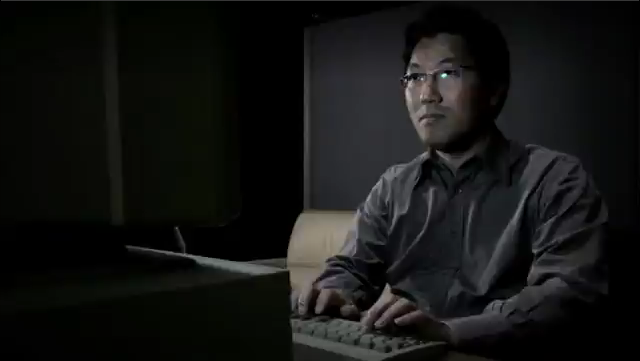 Of course, this is only the beginning of what the documentary is missing. Sonic 3 & Knuckles is acknowledged with about five seconds of footage. The Saturn is not mentioned once. The Game Gear isn't even alluded to (there were 12 Sonic games on the system, after all). Sonic Adventure is given some screen time as well, but almost begrudgingly. Not another game is talked about until Sonic Colo(u)rs and Generations, going so far as to skip over the fact Sega dropped out of the hardware business. And of course, what is probably the most annoying of all that they omit was any mention whatsoever of Hirokazu Yasuhara. The man who directed the original games, who developed the level layouts, the man who made sure the game was actually fun…not one word. If he couldn't be interviewed, fine. But to not mention his name once? It's not like I'm going "oh man why didn't they talk about Kunitake Aoki." Yasuhara was one of the driving forces behind the entire series! One nice thing about this retelling, at least, is the amount of screen time they gave Masato Nakamura. Head of DREAMS COME TRUE, this was the man who came up with the soundtrack to the first two Sonic games. Since he still owns the copyright to the songs he made, hearing Nakamura's name in anything official has been a rarity, since they can't use anything he wrote without his permission. To hear him talk about how he treated the Sonic soundtrack not just as a video game but as an actual movie just goes to show how much passion he personally held for the game. He's not the only music guy spoken to, with Jun Senoue, Tomoya Ohtani, and Kenichi Tokoi each mentioning the experience they had making music for their respective games.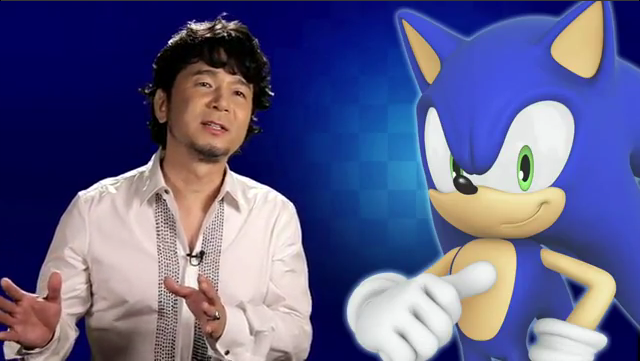 Any nice moment the documentary is able to provide is quickly buried under just as many bad ones. The inconsistent musical cues. The haphazard imagery which doesn't always match what the interviews are talking about. The terrible quality of numerous pieces of video footage. While the interviews are recorded with state of the art technology, nearly all the stock footage seems to be of dubious quality. The only nice footage they show off is video from Sonic the Hedgehog 2's release across the world, which is something I had never seen before. Seeing American, English, and Japanese children excited over Sonic again? Watching Japanese businessmen confused by someone in a poorly constructed Sonic the Hedgehog costume? That is priceless. If every moment of video could have been like that, I would be able to applaud Sega. Instead, I only get a brief moment with that footage, instead having to deal with YouTube rips of Sonic the Hedgehog games. This is perhaps the most baffling thing about the documentary that I have encountered. There are a million playthroughs of the classic games online, yes. I can't link a video right now saying "this is definitely from this YouTube account," but it is painfully obvious. The boarders, the terribly emulated sound effects, the desynched audio…those are the markings of a random Let's Play if I've ever seen one. There is absolutely no excuse as to how this could be. Sega, you should have plenty of random footage of your games on file for whoever is making this documentary. Even if you don't, how hard is it to record yourself playing the game? If a 12 year old can figure out how to do it, professional filmmakers should have no problem. The only game footage that doesn't seem to be a downloaded .flv are Sonic Colo(u)rs and Generations, since I'm guessing Sega had those trailers lying around. How nice of them.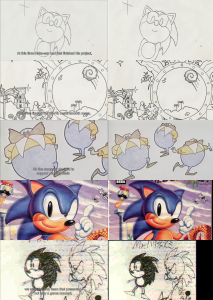 Who am I kidding, though. If anyone is a frequent visitor of the Retro wiki, they may have noticed that more than one image in the video actually came from this very site. Concept art of Sonic and Eggman? Those are stills from the Sonic 3 VHS I mentioned before, but they were captured from a very specific rip. Concept art of the Sonic 1 levels? Content that was scanned by Tom Payne, still with random markings from his weathered copy. They even use that creased-cover scan from the United States promotional comic, because apparently no one in the entire world has a copy they didn't bend in half. While these images were created by Sega, and at the end of the day they own the characters, it is annoying to see that Sega seems to care so little about their own history, needing to constantly reference a fan-made tribute to their franchise to pull together anything visually interesting. By all rights, they should have the source materials these images came from, being able to scan those at a ridiculous quality never before seen. This isn't just some personal annoyance, but a downright shame that Sega does not have immediate access to the content they helped create in the first place. It's possible some of this might be hiding out at Sega of Japan in whatever archives they have, but if they weren't able to open their doors to their western branch…that is something they need to work on. If they did open their doors but Sega was just unable to find anything? That is way beyond troublesome. If it is really the case only Sonic Retro has these rare materials, then would it have been so much to throw in a "special thanks" to the site at the end of the credits? You wouldn't have to cite every image, Sega. You wouldn't have to name drop in the middle of the documentary, or even say any specific community member. You could have simply placed the site's name at the end along with the likes of Aaron Webber, just as a nod to all of those who have been fascinated with your franchise and went out of their way, putting in the time and effort to chronicle something they hold dear. I would be saying the exact same thing if they had used any other Sonic website. At the end of the day, the documentary just isn't as strong as it should be. If if you want a quick overview of Sonic the Hedgehog's history, it's alright, even if they do sugar-coat things to a point. And I can't help but cringe when someone being interviewed just gets something outright wrong (really, Tom Kalinske? Sonic was the first video game animated TV show? Even Q*Bert had one!). But in general, it could be way, way better. Even though they claimed they started working on it back in 2010, just how rushed it is screams for a proper history to be made. The Pix'N'Love book might help to fill in that gap, but I'm almost certain it won't have any footage of Naka racing around in any car. Maybe it'll get the full treatment visually some day… Oh, and for those keeping score. The people who made this? They also made an Internet-exclusive documentary about Summer of Sonic. Wonder if the people being interviewed thought they'd end up in the documentary in the collector's edition…